Delete by timelines
The Delete by timelines operation deletes timelines based on certain criteria. For example, you may wish to delete timelines with too few or too many events if they have no analytical value.
Configuring the operation
In the Timeline ID column drop-down list, select the column that contains the IDs of the required objects. An object may refer to a purchase order number, a patient ID, a customer ID, etc. Its ID serves to associate the object with its related events. For example, all the stages of processing a particular purchase order, from order receipt to shipment, will share the same ID (PO number).
If required, click Analyze in the Statistics area. ABBYY Timeline will calculate the total number of events and timelines in the selected table and show the number and percentage of timelines with different numbers of events.

Specify a criterion for timeline deletion:

Random
This will reduce the number of timelines through random deletion. You will need to specify how many timelines you wish to keep.
Number of events
Here you can choose to delete timelines whose number of events is greater or smaller than a specified number. If you clicked Analyze in step 2, ABBYY Timeline will show how many timelines will be left after running the operation.

Click Save. The Edit Operation window will close and the new operation will appear in the Operations pane.
Configuration example
The configuration shown in the figure below will delete any timelines with fewer than 6 events from the table that contains a TimelineID column.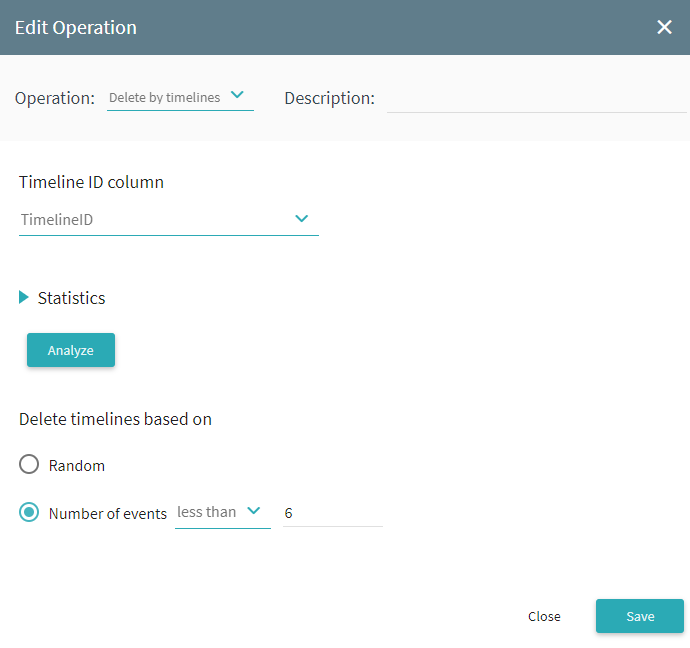 25.05.2023 10:12:06