6. OutputDialog Box: Workflow Properties, Tab: Output
On this tab you can specify output parameters: export formats and their parameters, a destination and an Output folder for each format and a folder for storing XML result files.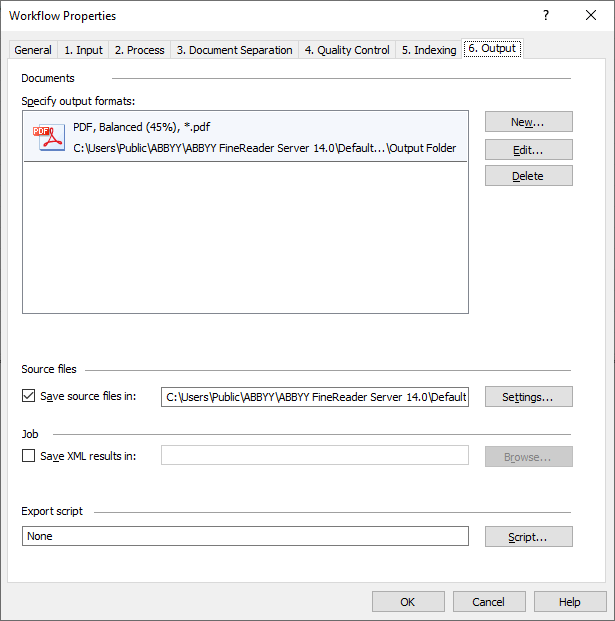 You can create, edit and delete output formats. Click New... button to open Output Profile Settings dialog box where you can specify the output format, format settings, the Output folder, the output file naming rule. The same dialog box appears when you click Edit... button.
You can specify the following formats:
You can configure further output files processing with the help of a script. To do this click Script... button, and in the Script Editor dialog box enter the script text. See for details Creating a Script for Export Handling.
To save original files, select the corresponding option. Click Settings... to specify output files names and path to the destination folder.
You can also specify a separate folder for XML result files.
Default settings
The following output parameters are specified by default:
Output folder is the folder of the Default Workflow
Export formats are PDF and Original image
2 — A JSON file containing recognized text, the layout of which is described in the ExportToJSON.json file located in the installation folder (C:\Program Files\ABBYY FineReader Server 14.0\Help by default).
See also
29.11.2022 17:26:42
Please leave your feedback about this article