GeneralDialog Box: Workflow Properties, Tab: General
On this tab, you can specify the following parameters: workflow name, workflow type, workflow activity, and priority.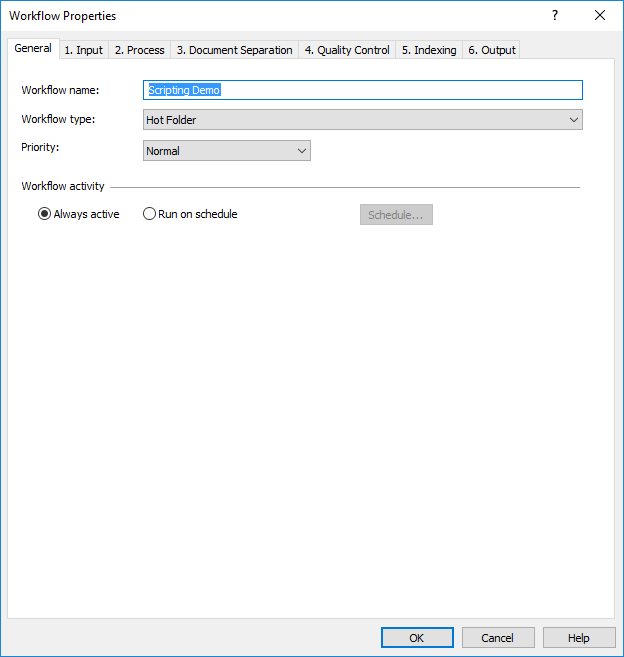 Option name
Option description
Workflow name
Here you can specify a name for your workflow. This name will be subsequently used to identify the workflow.
Workflow type

Depending on the input source and your processing needs, select one of the following three workflow types:

Hot Folder. This workflow type is used for automated processing of incoming images. Original images will be deleted from the Input folder.
Document Library. This workflow type is used for processing incoming images by user command or based on a schedule. Original images will not be deleted from the Input folder.
Mail. For this workflow type, an Exchange Online mailbox or a POP3\IMAP server inbox will be used as the input source.

See How to Create a New Workflow for a more detailed treatment of workflow types.

Workflow activity

Here you can specify when and how often the workflow should be started:

Always active
Run on schedule. For jobs that are to be performed at certain times and for recurrent jobs, you can create a schedule. Click the Schedule... button to openSchedule dialog box. For detailed instructions, see Creating a Schedule.

Priority
Here you can specify the priority of your workflow.
See also
Workflow Properties Dialog Box
29.11.2022 17:26:42
Please leave your feedback about this article