Wyszukiwanie za pomocą słów kluczowych
Aby wyszukać słowo kluczowe:
Otwórz kartę w okienku po lewej stronie lub kliknij Widok > Szukaj, aby otworzyć okienko SZUKAJ.
W polu tekstowym Wyszukaj wpisz słowo lub wyrażenie, które chcesz wyszukać.
Pasujące słowa i zwroty zostaną wyróżnione w dokumencie.
Wyniki wyszukiwania zostaną pogrupowane (wg źródła: tekstu, komentarzy lub zakładek) i będzie można wyróżniać całe bloki tekstu.
 
W razie potrzeby kliknij strzałkę obok ikony i wybierz jedną z następujących opcji:
Dokładne dopasowanie znajdzie tylko słowa dokładnie pasujące do słów wpisanych w polu wyszukiwania.
Na przykład wyszukiwanie słowa "correct" nie pozwoli znaleźć słów "incorrectly" ani "correction".
Rozróżniaj wielkość liter znajdzie tylko słowa pasujące wielkością liter do słowa w zapytaniu.
Na przykład wyszukiwanie słowa "Editor" nie pozwoli znaleźć słowa "editor" ani "EDITOR".
Możesz wyróżnić, skreślić i podkreślić znalezione wystąpienia w tekście. Aby to zrobić, wybierz słowa w wynikach wyszukiwania i kliknij odpowiednie narzędzie (wyróżnienie, przekreślenie lub podkreślenie).


Spowoduje to utworzenie komentarzy w dokumencie PDF oraz zaznaczenie wszystkich zmian, które należy nanieść w dokumencie źródłowym. Nie będzie to miało wpływu na tekst samego dokumentu PDF.
Aby zmienić kolor znakowania tekstu, kliknij strzałkę obok wybranego narzędzia i wybierz kolor z palety, która zostanie wyświetlona.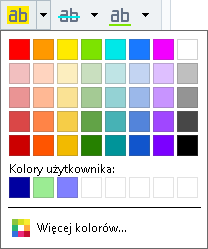 Aby przejść do następnego/poprzedniego znalezionego fragmentu, użyj przycisków

. Do następnego wyniku wyszukiwania można też przejść, naciskając klawisz F3.
04.03.2022 7:13:23
Please leave your feedback about this article