Dialog Box: Mapping Document Attributes to SharePoint Columns
This dialog box allows you to select a content type and set document properties when exporting a document to a SharePoint Server library. It also allows you to associate document attributes with columns in SharePoint, which enables ABBYY FineReader Server to automatically export document attributes extracted during the indexing stage to SharePoint columns. This dialog box appears if you select Save output file in SharePoint library item in the drop-down list on the Output Profile Settings dialog box, select the library from the Library drop-down list and click the Settings... button.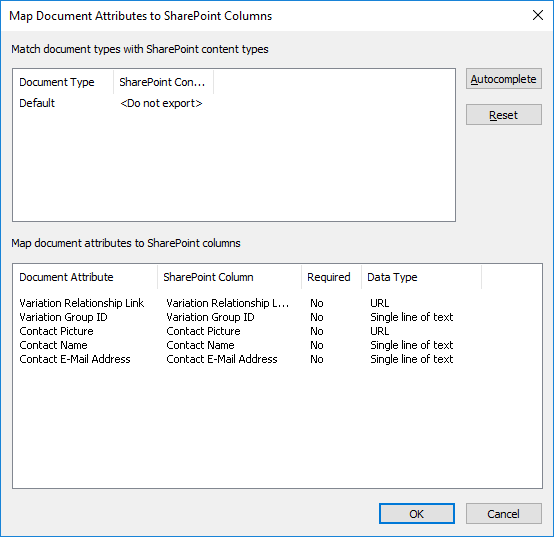 Option
Description
Match document types with SharePoint content types

Document Type. This column displays a list of document types available on the Indexing Station for the current workflow.
SharePoint Content Type. Click the cell next to a document type and select a SharePoint content type from the drop-down list to associate them.

Autocomplete

(button)

Searches for document types that have been imported from SharePoint and automatically associates a document's metadata fields with columns in an imported document type.

Reset

(button)

Restores the default settings.
Map document attributes to SharePoint columns

Document Attribute. Click the cell next to a SharePoint column and select a document attribute from the drop-down list to associate them.
SharePoint Column. This column displays a list of SharePoint columns from the selected document type.
Required. Indicates whether a field must be completed on the Indexing Station.
Data Type. Indicates the data type.
Important! A document's metadata field cannot be mapped to a SharePoint column if their data types are not the same.
See also
How to configure Document Publishing to a SharePoint Server
20.09.2022 9:27:51
Please leave your feedback about this article