Output Profile Settings Dialog Box
The Output Profile Settings dialog box contains settings that let you customize the way processed documents are exported. You can choose the format of output documents, specify the export destination and file naming rules, and customize the formatting of output files.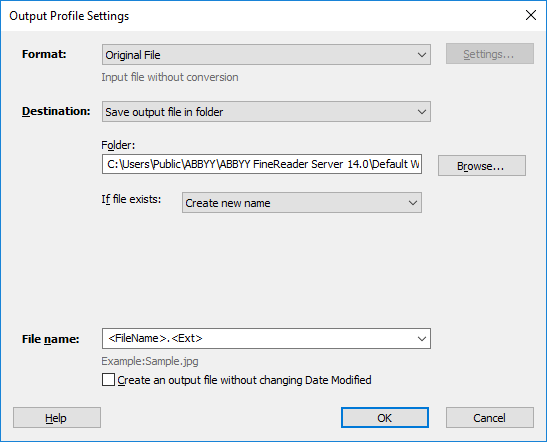 The saving format selected in the Format drop-down list determines the contents of the dialog box, so make sure you select the format you want to use before changing other settings.
Output data can be saved in the following formats:
Select the way you want to export output files from the drop-down list at the Destination group. The rest of the settings depend on which option you choose.
Save output file in folder
Save output file to source library
Send output file via SMTP server
Send output file via Exchange Server (deprecated method)
The following options apply to all export types:
File name(drop-down list). Specifies a rule for naming output files. The predefined options allow using the source file name or appending it with the job creation date and time in the following formats:

<Dd>-<Mm>-<Yyyy> <Time>
<Mm>-<Dd>-<Yyyy> <Time>
<Yyyy>-<Mm>-<Dd> <Time>
You can also edit an existing rule or create a new one in the File Naming and Output Path dialog box, which appears when you select Custom... in the File name drop-down list.
Create an output file without changing Date Modified
Changes the date of last modification of the output file to the date when the input file was last modified. This option is not available when exporting to SharePoint.
See also
20.09.2022 9:27:51
Please leave your feedback about this article