Dialog Box: XLS/XLSX
This dialog box allows you to specify XLS/XLSX format settings.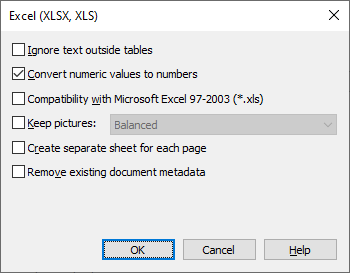 Set the parameters for saving recognized text in XLS or XLSX format:
Option
Option description
Ignore text outside tables
Select this option if you wish to save only tables in XLS or XLSX files.
Convert numeric values to numbers
Select this option to have numbers saved in "Numbers" format in XLS or XLSX files. Microsoft Excel may perform arithmetical operations with cells in this format.
Compatibility with Microsoft Excel 97-2003 (*.xls)
Select this option if you wish output Microsoft Excel documents to be saved in XLS format.
Keep pictures

Select this option to keep the pictures in the recognized text. The quality of the saved pictures and the size of the output file are determined by the option selected in the Keep pictures drop-down list.

Note. To customize the picture saving options, click Custom..., select the desired options in the Custom Settings dialog box, and click OK.

Create separate sheet for each page
Select this option to save pages from the source document as separate worksheets.
Remove existing document metadata
Removes the original metadata from the document, including title, author, tags, etc.
See also
20.09.2022 9:27:51
Please leave your feedback about this article