Dialog Box: RTF/DOC/DOCX
This dialog box allows you to specify RTF/DOC/DOCX format settings.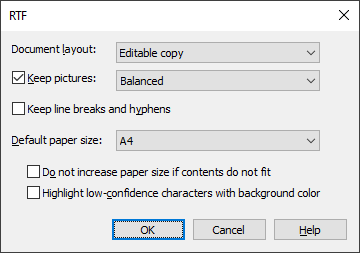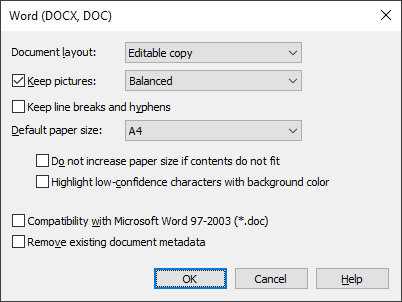 Set parameters for saving recognized text in RTF/DOC/DOCX formats and sending it to Microsoft Word:
Option name
Option description
Document layout group

Document layout

(drop-down list)

Sets layout retention. The following choices are available:

Exact copy
Produces a document that maintains the formatting of the original. This option is recommended for documents with complex layouts, such as promotion booklets. Note, however, that this option limits the ability to change the text and formatting of the output document.
Editable copy
Produces a document that nearly preserves the original format and text flow but allows easy editing.
Formatted text
Retains fonts, font sizes, and paragraphs, but does not retain the exact locations of the objects on the page or the spacing. The resulting text will be left-aligned. (Right-to-left texts will be right-aligned).
Note. Vertical texts will be changed to horizontal in this mode.
Plain text
Unlike the Formatted text mode, this mode does not retain formatting.

Keep pictures

Select this option to keep the pictures in the recognized text.

The option is selected by default.

Note. The format in which pictures are saved in the output file is selected automatically based on the following two picture properties: Color Type (black and white, grayscale or color) and Color Variety (low or high). Black-and-white pictures are always saved in PNG format. Grayscale and color pictures are saved in PNG format in the case of low color variety, and in JPEG format in the case of high color variety.

Keep line breaks and hyphens
Retains the original arrangement of text lines in the output text.
Default paper size group

Default paper size

(drop-down list)

Sets the paper size for saving in RTF, DOC, or DOCX format.

Note. If you do not find a suitable paper size in the list, you can add your own - custom - paper size. To do this, select the Add custom paper size... item from the list and in the Custom Paper Size dialog box that appears specify the name, height and width for the custom paper size.

Do not increase paper size if contents do not fit
Select this option if you do not wish the size of the page to be automatically increased to fit the recognized text.
Highlight low-confidence characters with background color
Select this option if you wish characters recognized with low confidence to be highlighted with a background color.
Compatibility with Microsoft Word 97-2003 (*.doc)
Select this option if you wish output Microsoft Word documents to be saved in DOC format.
Remove existing document metadata
Removes the original metadata from the document, including title, author, tags, etc.

Note. In order to display documents in Arabic correctly, Arabic must be selected as an editing language in Microsoft Office. To select it manually, open the start screen, click Microsoft Office -> Office Tools -> Office Language Preferences, and add Arabic to the list of editing languages.
See also
20.09.2022 9:27:51
Please leave your feedback about this article