Dialog Box: Add Digital Signature
This dialog box allows you to configure your digital signature. 
You may want to digitally sign a PDF document to:
assert your authorship
enable others to verify the authenticity of your document
secure your document against tampering
To digitally sign your documents, you can use the certificate included with ABBYY FineReader Server or certificates issued by third parties.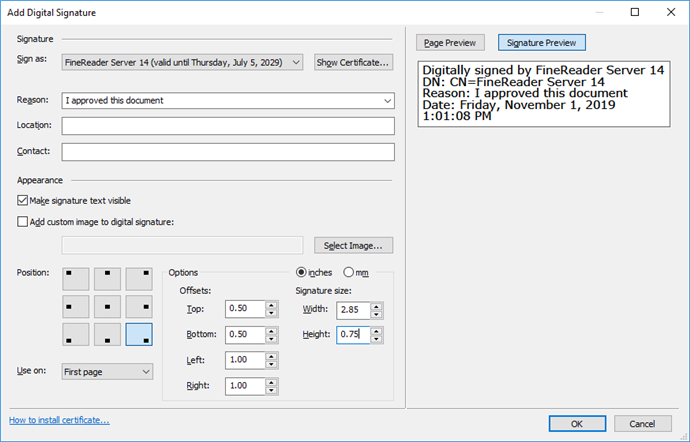 To add a digital signature to a PDF document:
In the Add Digital Signature dialog box, select a certificate from the Sign as drop-down list.
If required, complete the Reason, Location, and Contact fields.
Configure the appearance of your signature:
Specify whether the text of the signature should be visible or hidden.
Add any image you want to appear next to your signature (e.g. your company logo)
Specify a size and position for your signature.
Click Signature Preview to preview a signed version of your document. If your document has watermarks, page numbers, footers or headers, click Page Preview to see all of these elements.
Click OK.  

Note. Signing documents with digital signatures stored in USB keys is not supported.
Using third-party certificates
If the certificate that you need is not in the list…
To install a third-party certificate on running Processing Stations...
If you do not have access permissions for the Local Machine:Personal certificate store...
See also
20.09.2022 9:27:51
Please leave your feedback about this article