Dialog Box: Group Properties
This dialog box displays the properties of the group of Processing Stations.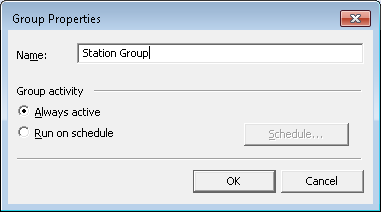 Option name
Option description
Name
Specifies the name of the group
Group activity

Specifies the group activity:

Always active
Run on schedule

For jobs that are to be performed at certain times and for recurrent jobs, you can create a schedule in the Schedule dialog box. Click the Schedule... button to create a schedule. See Creating a Schedule for detailed instructions.

Note. All Processing Stations of the group inherit this schedule.
See also
11/29/2022 5:26:42 PM
Please leave your feedback about this article