OAuth token authorization
The OAuth protocol does not require you to enter your login and password and allows you to log in even when two-factor authentication is used.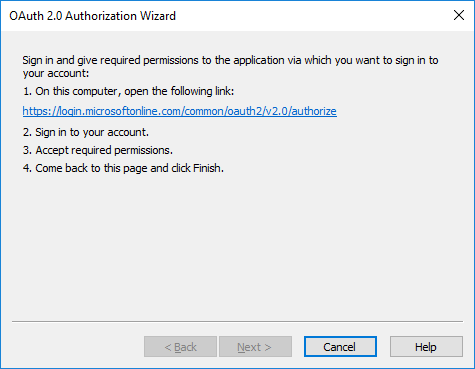 OAuth token authorization is available for SharePoint Online and the following e-mail clients: Office 365, and Exchange Online.
To generate a token:
Click the Sign in... button.
In the dialog box that opens, click the following link: www.microsoftonline.com (the link will open in your default browser).
Use the login.microsoftonline.com website to log in to the appropriate account.
After logging in, grant the necessary permissions to ABBYY FineReader Server 14.
A notification will appear once the necessary permissions have been granted. Close it and navigate back to the FineReader Server console.
Click Finish in the dialog box that opens.
See also
Input Tab of Workflow Properties Dialog Box
11/29/2022 5:26:42 PM
Please leave your feedback about this article