Project Details Panel
The project panel provides various information about the project and allows user to change the project configuration.
To open the Project details panel, click

> Project details.
The panel includes:
General information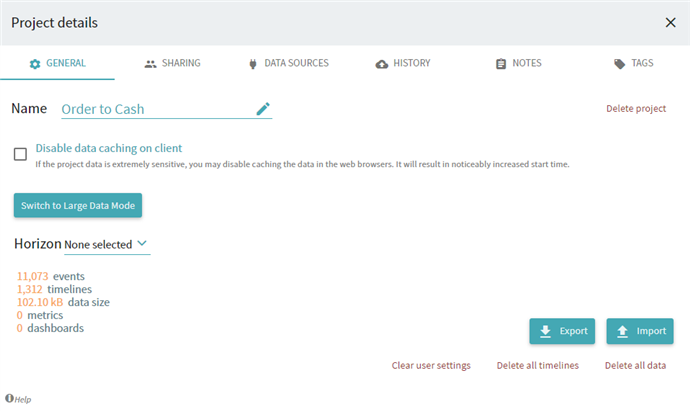 Project name and controls to change it
Disable Data Caching on client
If the project data is extremely sensitive, you may disable caching the data in the web browsers. It will result in noticeably increased start time.
Import/Export
Project settings and configurations can be imported or exported to projects.
Data Deletion
Delete timelines: By selecting delete timelines, event related data will be deleted. This means the uploaded data will be deleted. Deleting timelines will wipe out all of the event related data you've loaded, but preserve any configurations or project metadata you may have configured (saved sets, icons, file mappings, queries etc.).
Delete all data: By selecting delete all data, all data within the project will be deleted. This means saved data mappings, icons, sets, filters, and histories will be deleted. Deleting All data will wipe the entire project clean including metadata and set the project back to a blank slate.
Sharing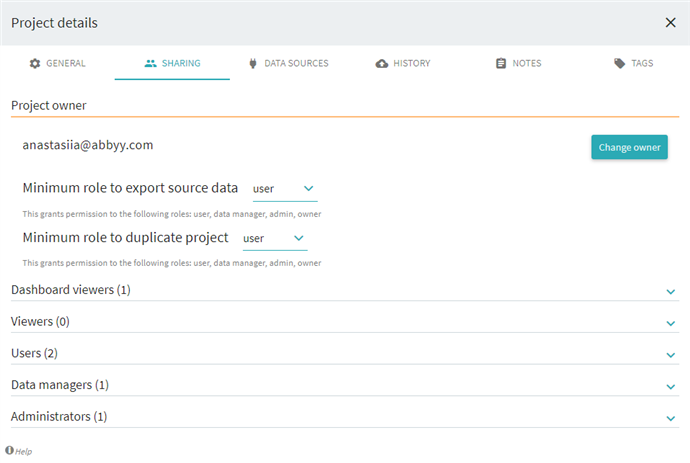 A project may have any number of users and a user could be a part of multiple projects.
User's rights in a project could be one of the following:
Owner – a person who created the project. There's only one owner for a project at a time. The ownership could be transferred to another user. An owner has all rights of Admin.
Dashboard Viewer – can only view dashboards.
Viewer – can only view data. Can't save sets, can't save queries, can't create or remove tags.
User – can view the data and save sets, queries, tags.
Data Manager – this is a person who has access to Upload panel and can upload new data.
Admin – can view the data AND upload new data AND add/remove other users and change their rights (except for Owner)

Any admin or owner could make another user an admin or remove the admin right from him, except for the Owner. An admin changes the rights of other users by clicking on the drop-down lists in the user grid.

Admin could also add create another user to the project by typing his email and clicking Enter. In such case: New user is created with rights "User".

If the user already has account in ABBYY Timeline, he simple gets email notification about access to a new project.

If user doesn't have an account, we create new account in Recovery status, then send user an email with the temporary password – exactly the same process as when user recovers the forgotten password – see User Management document.
Data Sources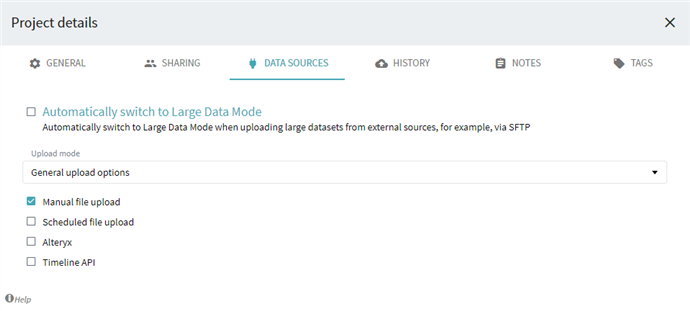 Here you can select the source for uploading data to the project.
History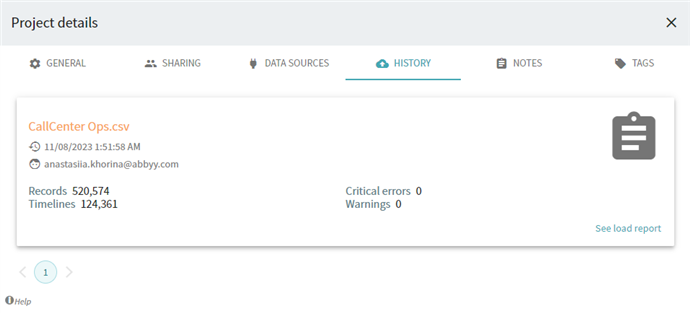 Here you can see detailed information about the progress of data uploading into the project.
Notes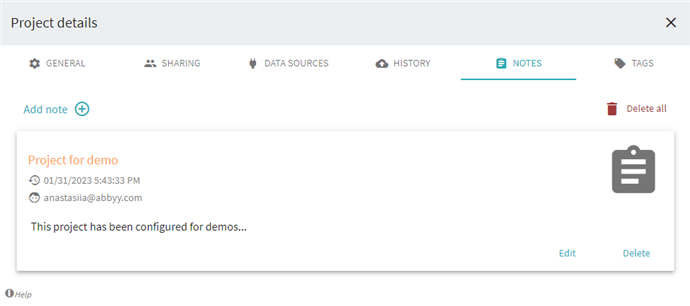 Here you can add your comments to the project
Tags

You can add tags to the project here. Users who have access to this project can see these tags in the Project List panel (Project > Open menu).
5/25/2023 10:12:06 AM