Additional options
You can set up document processing and the program interface to suit your needs. In the main window of the program, select Tools → Options.... The dialog that opens contains tabs Colors, Dialogs, Keyboard Shortcuts, Task Progress and Document Processing:.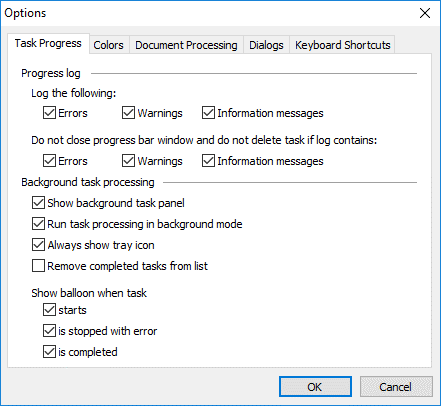 Task Progress
When tasks are executed in background mode, you can monitor the process in the task progress window, by reading the log file, and reading the pop-up tips. On this tab, you can select which information should be entered into the log file and in which cases balloon messages should be displayed.
Colors
You can change the color if interface elements (e.g. the frames that enclose selected fields in the Document Definition editor or the frames and fill-in color of fields with errors and warnings). Select the desired element and then click the Color button.
Document Processing
Images can be recognized automatically immediately after they have been added to the batch if you select the Recognize added images automatically option.Recognition can be ran in background mode (select Run recognition process in background mode).
If Skip documents with errors during manual export is selected, both successfully processed documents and documents with errors will be exported.
If an script error is detected, the Visual Studio debugger is launched. For Active Scripting scripts, you may select Disable external script debugging if you do not wish the debugger to be launched. Only an error message will be displayed.
In case when stations will not have access to the external database, data set updates on stations can be disabled by disabling the Update data sets when batch is opened option.
Dialogs
By default, when you launch the program the Open Project dialog box is displayed, where you can select one of the existing projects. You can disable this dialog box by clearing the Show 'Open Project...' dialog on startup option on the Dialogs tab (alternatively, you can disable this dialog by clearing the same option in the dialog itself).
When you are closing a list of Document Definitions, the program warns you of any unpublished Document Definitions. If you do not wish this warning message to be displayed, clear the option Show warning if unpublished Document Definition exists (alternatively, you can disable this dialog by clearing the same option in the dialog itself).
If you want notifications to be shown when exporting documents with errors select Warn if document is exported with errors.
Select Prompt save changes when switching between documents if you want the program to display a confirmation dialog before saving changes when you switch to another document. If this option is not enabled, changes will be saved automatically.
Keyboard Shortcuts
You can customize keyboard shortcuts on this tab.
15.11.2022 10:12:44
Please leave your feedback about this article