TextRegions Object (ITextRegions Interface)
This object is a collection of text regions recognized on a page. It provides all the standard collection methods.
Properties
Methods
| Name | Description |
| --- | --- |
| Item | Provides access to a single element of the collection. |
Related objects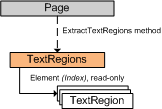 Output parameter
This object is the output parameter of the ExtractTextRegions method of the Page object.
See also
24.03.2023 8:48:38