TextRegion Object (ITextRegion Interface)
This object represents a background text region on a recognized page. This region does not necessarily match any of the document fields. You can use it in your program, for example, as a source of supplementary information about the page.
Properties
Related objects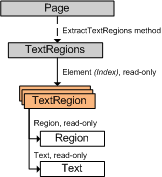 Output parameter
This object is the output parameter of the Item method of the TextRegions object.
See also
24.03.2023 8:48:38