SectionDefinitions Object (ISectionDefinitions Interface)
This object is a collection of sections of a Document Definition. To access the sections of the certain Document Definition, use the Sections property of the corresponding DocumentDefinition object.
Properties
Methods
| Name | Description |
| --- | --- |
| AddNew | Creates a new SectionDefinition object and adds it at the end of the collection. |
| Item | Provides access to a single element of the collection. |
Related objects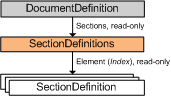 Samples
This object is used in the following code samples: Classification, Invoices Processing and Training.
See also
24.03.2023 8:48:38