FlexibleDescription Object (IFlexibleDescription Interface)
This object corresponds to a flexible description. Flexible description is a formalized description of the document structure, designed to help detect fields. It is created with ABBYY FlexiLayout Studio and saved in a *.afl file. Flexible descriptions are usually created for bills, payment orders, and similar documents, when it is impossible to create a Document Definition with fixed field locations. This is because their location, size and number may not be identical, therefore a fixed Document Definition cannot be applied to all documents. In such documents, the program searches fields after pre-recognition of the entire page and creates a flexible description based on keywords and relative locations of fields.
Properties
| Name | Type | Description |
| --- | --- | --- |
| Comment | String, read-only | Stores the flexible description comment. |
| Name | String, read-only | Stores the name of the flexible description. |
Related objects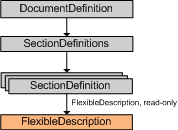 Output parameter
This object is the output parameter of the LoadFlexibleDescription and LoadFlexibleDescriptionFromStream methods of the SectionDefinition object.
See also
3/24/2023 8:48:38 AM