ExtractionModel Object (IExtractionModel Interface)
This object represents an entity extraction NLP model. The trained model reveals which entities should be extracted from a document.
Properties
Name
Type
Description
AllowTraining
Boolean
Specifies whether the entity extraction model is allowed to be trained.
Language
Language

Specifies the language of the text to be extracted.

Name
String, read-only
The name of the entity extraction model.
ResultFields
FieldDefinitionsCollection

Stores a collection of output fields resulting from applying the entity extraction model.

These fields must be filled.

Source
FieldDefinition
A source field to be processed.
Version
String, read-only
The version of the NLP model.
Related objects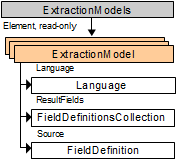 Output parameter
This object is the output parameter of the AddNew, LoadFromFile and Item methods of the ExtractionModels object.
See also
24.03.2023 8:48:38