ClassificationTrainingBatch Object (IClassificationTrainingBatch Interface)
This object represents a batch for training the classifier. It contains the ClassificationTrainingDocument and ClassificationTrainingPage objects obtained from the documents and pages of the corresponding batch.
Properties
Methods
| Name | Description |
| --- | --- |
| LoadClassifier | Loads a classifier from a *.cfl file. |
| RemoveClassifier | Removes the classifier from the training batch. |
| Rename | Changes the batch name and returns the new name. |
Related objects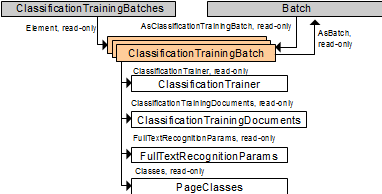 Output parameter
This object is the output parameter of the AddNew, FindById, FindByName and Item methods of the ClassificationTrainingBatches object.
Samples
This object is used in the following code samples: Classification.
See also
24.03.2023 8:48:38