Predbežné spracovanie snímky
Kvalitu optického rozpoznávania môžu zhoršovať deformované riadky textu, skosenie dokumentu, šum a iné nedostatky a rušivé prvky, ktoré sa najčastejšie vyskytujú na naskenovaných snímkach a digitálnych fotografiách. Program ABBYY FineReader dokáže automaticky odstrániť tieto chyby a umožňuje vám ich odstrániť aj manuálne.
Automatické predspracovanie snímky
Program ABBYY FineReader má viaceré funkcie predspracovania snímky. Ak sú aktivované tieto funkcie, program automaticky určí, ako môže byť snímka vylepšená podľa jeho typu a použije všetky potrebné vylepšenia: odstraňuje šum, opravuje zošikmenie, vyrovnáva riadky textu a opravuje lichobežníkového skreslenie.
Poznámka: Tieto operácie môžu trvať veľmi dlho.
Vykonať nasledujúce kroky, ak chcete, aby aplikácia ABBYY FineReader 12 automaticky predspracovala všetky snímky, otvorené alebo naskenované.
Otvorte dialógové okno Možnosti (Nástroje >Možnosti…).
Kliknite na kartu Skenovať/Otvoriť a skontrolujte, či možnosť Automaticky spracovať strany pri ich pridaní v skupine vo Všeobecné je aktivovaná a či sú vybrané potrebné operácie v skupine Predspracovanie snímky.
Poznámka: Automatické predspracovanie snímky môžete aktivovať a deaktivovať v dialógovom okne Otvoriť snímku (Súbor >Otvoriť súbor PDF alebo snímku…) a v dialógovom okne skenovania.
Manuálna úprava snímok
Automatické predspracovanie môžete vypnúť a upravovať snímky manuálne v Editore snímok.
Pri manuálnych úpravách snímky postupujte podľa nižšie uvedených pokynov:
Otvorte Editor snímok kliknutím na Upraviť snímku… v ponuke Stránka.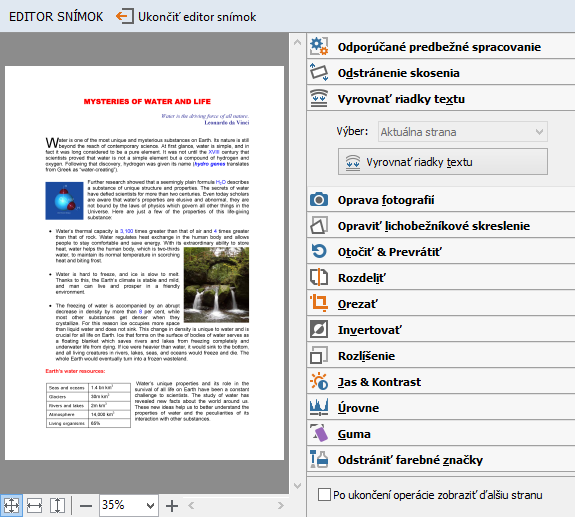 Ľavá časť EDITOR SNÍMOK obsahuje stránku dokumentu programu FineReader vybratú pri otvorení Editora snímok. Pravá časť obsahuje niekoľko kariet s nástrojmi na úpravu snímok.
Vyberte si nástroj a vykonajte požadované zmeny. Väčšina nástrojov sa môže uplatniť na vybratých stranách alebo na všetky strany v dokumente. V rozbaľovacom zozname Výber alebo v okne Strany si môžete vybrať strany.
Po dokončení úprav snímky kliknite na Ukončiť editor snímok.
Editor snímok obsahuje tieto nástroje:
Odporúčané predbežné spracovanie Program automaticky určí, aké úpravy je potrebné uskutočniť na snímke. Úpravy, ktoré môžu byť použité, zahŕňajú odstránenie šumu a rozostrenia, inverziu farieb, ktorou sa pozadie stane svetlé, korekciu skosenia, vyrovnanie riadkov textu, korekciu lichobežníkového skreslenia a orezávanie hraníc snímky.
Odstránenie skosenia Napraví skosenie snímky.
Vyrovnať riadky textu Vyrovná textové riadky v snímke.
Oprava fotografií  Nástroje v tejto skupine vám umožnia vyrovnať textové riadky, odstrániť šum a rozostrenie a prepnutie farby pozadia na bielu.
Opraviť lichobežníkové skreslenie Opraví lichobežníkové skreslenia a odstráni okraje snímky, ktoré neobsahujú žiadne užitočné údaje. Ak je vybratý tento nástroj, na snímke sa zobrazí modrá mriežka. Potiahnite rohy mriežky do rohov snímky. Ak to urobíte správne, vodorovné čiary mriežky budú rovnobežné s riadkami textu. Teraz kliknite na tlačidlo Opraviť.
Otočiť a prevrátiť Nástroje v tejto skupine vám umožnia otočiť snímky a prevrátiť ich zvisle alebo vodorovne, tak aby bol text na snímke správne nasmerovaný.
Rozdeliť Nástroje v tejto skupine vám umožňujú rozdeliť snímku na časti. Môže to byť užitočné, ak skenujete knihu a musíte rozdeľovať dvojstrany.
Orezať Odstráni okraje snímky, ktoré nič užitočné neobsahujú.
Invertovať Invertovať farby snímky. Môže to byť užitočné, ak pracujete s neštandardným sfarbením textu (jasný text na tmavom pozadí).
Rozlíšenie Zmení rozlíšenie snímky.
Jas a kontrast  Mení jas a kontrast snímky.
Úrovne Tento nástroj vám umožní upraviť úrovne farieb snímok zmenou intenzity tieňov, svetla a poltónov.
Ak chcete zvýšiť kontrast snímky, posuňte ľavý a pravý jazdec na histograme Úrovne vstupu. Ľavý jazdec nastaví farbu, ktorá sa bude považovať za najčernejšiu časť snímky, a pravý jazdec nastaví farbu, ktorá sa bude považovať na najbelšiu časť obrazu. Pohybom stredného jazdca doprava sa snímka stmavuje a pohybom doľava sa snímka zosvetľuje.
Nastavte jazdec výstupnej úrovne na zníženie kontrastu snímky.
Guma Odstráni časť snímky.
Odstrániť farebné značky  Odstráni všetky farebné pečiatky a značky písané perom na uľahčenie rozpoznávania textu, ktorý tieto značky prekrývajú. Tento nástroj je určený na naskenované dokumenty s tmavým textom na bielom pozadí. Tento nástroj nepoužívajte pre digitálne fotografie a dokumenty s farebným pozadím.
14.01.2020 17:26:21
Please leave your feedback about this article