Fotografovanie dokumentov
Skenovanie nie je jediný spôsob získania snímok dokumentov. Môžete rozpoznávať aj fotografie dokumentov z fotoaparátu alebo mobilného telefónu. Stačí odfotiť text, uložiť ho na pevný disk a otvoriť ho v programe ABBYY FineReader.
Pri fotografovaní dokumentov, je potrebné pamätať na rad faktorov, aby boli fotografie lepšie vhodné na rozpoznávanie. Tieto faktory sú podrobne popísané v nasledujúcich častiach:
Požiadavky na fotoaparát
Aby ste získali snímky dokumentov, ktoré bude možné spoľahlivo rozpoznať, fotoaparát by mal spĺňať nasledujúce požiadavky.
Odporúčané charakteristiky fotoaparátu
Obrazový snímač: 5 miliónov pixlov na stranu A4. Pri fotografovaní menších dokumentov (napr. vizitiek) môže byť dostatočné aj nižšie rozlíšenie snímača.
Funkcia deaktivácie blesku
Manuálne ovládanie clony, t. j. možnosť režimu Av alebo plne manuálneho režimu
Manuálne zaostrovanie
Stabilizačný systém alebo možnosť použitia statívu
Optické priblíženie
Minimálne požiadavky
2 miliónov pixlov na jednej strane A4.
Variabilná vzdialenosť zaostrenia.
Poznámka: Podrobné informácie o nastaveniach fotoaparátu nájdete v dokumentácii dodanej so zariadením na fotografovanie.
Osvetlenie
Osvetlenie výrazne ovplyvňuje kvalitu výslednej fotografie.
Najlepšie výsledky dosiahnete so silným a rovnomerne rozdeleným svetlom, najlepšie denným svetlom. V jasnom slnečnom dni môžete zvýšiť clonové číslo, aby ste získali ostrejší obrázok.
Použitie blesku a ďalších svetelných zdrojov
Ak fotografujete pri umelom osvetlení, použite dva svetelné zdroje umiestnené tak, aby ste predišli vzniku tieňov alebo presvetlených oblastí.
Ak fotografujete pri dostatočnom osvetlení, vypnite blesk, aby ste predišli vzniku tieňov a výraznému presvetleniu určitých častí. Ak fotografujete pri nedostatočnom osvetlení a musíte použiť blesk, fotografujte zo vzdialenosti približne 50 cm.
Dôležité upozornenie! Blesk sa nesmie používať pri fotografovaní dokumentov vytlačených na lesklom papieri. Porovnajte snímku s odbleskmi a kvalitnú snímku
Ak je snímka príliš tmavá
Nastavte nižšiu hodnotu clony, aby ste ju otvorili.
Nastavte vyššiu hodnotu ISO.
Použite manuálne zaostrenie, pretože automatické zaostrenie môže pri nevhodných podmienkach osvetlenia zlyhať.
Porovnajte snímku, ktorá je príliš tmavá, s kvalitnou snímkou:
Fotografovanie
Aby ste dosiahli kvalitné fotografie dokumentov, umiestnite fotoaparát správne a dodržiavajte nasledujúce jednoduché odporúčania.
Vždy, keď je to možné, používajte statív.
Objektív musí byť rovnobežne voči strane. Vzdialenosť medzi fotoaparátom a dokumentom by mala byť zvolená tak, aby sa pri priblížení zmestila do záberu celá strana. Vo väčšine prípadov to bude vzdialenosť 50 – 60 cm.
Vyrovnajte papierové dokumenty alebo strany kníh (najmä v prípade hrubých kníh). Riadky textu by nemali byť zošikmené o viac než 20 stupňov, v opačnom prípade sa text nemusí konvertovať správne.
Aby ste získali ostrejšie snímky, zaostrite na stred snímky.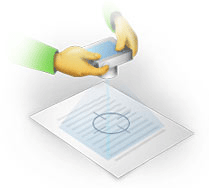 Zapnite stabilizačný systém, pretože dlhé expozičné časy pri slabom svetle môžu spôsobiť rozmazanie.
Použite funkciu automatickej samospúšte. Zabránite tak pohybu fotoaparátu pri stlačení tlačidla uzávierky. Používanie samospúšte sa odporúča, aj keď používate statív.
Možnosti vylepšenia snímky:
snímka je príliš tmavá alebo je príliš nízky kontrast.
Riešenie: Pokúste sa zlepšiť osvetlenie. Ak takúto možnosť nemáte, skúste nastaviť nižšiu hodnotu clony.
snímka nie je dostatočne ostrá.
Riešenie: Automatické zaostrenie nemusí pracovať správne pri slabom osvetlení alebo pri snímaní dokumentu z malej vzdialenosti. Použite intenzívnejšie osvetlenie. Použite statív a samospúšť, aby sa vylúčili pohyby fotoaparátu pri snímaní.
Ak je snímka iba mierne rozostrená, použite nástroj Oprava fotografií, ktorý je dostupný v Editore snímok. Viac informácií nájdete v časti "Manuálna úprava snímok."
časť snímky nie je dostatočne ostrá.
Riešenie: Skúste nastaviť vyššiu hodnotu clony. Fotografujte z väčšej vzdialenosti a pri maximálnom optickom priblížení. Zaostrite na nejaký bod medzi stredom a okrajom snímky.
Riešenie: Vypnite blesk alebo použite ďalšie zdroje svetla a zvýšte vzdialenosť medzi fotoaparátom a dokumentom.
14.01.2020 17:26:21
Please leave your feedback about this article