Sammenligning af dokumenter
(Denne funktionalitet er ikke tilgængelig i visse versioner af ABBYY FineReader. Se også: http://www.ABBYY.com/FineReader.)
ABBYY FineReader indeholder ABBYY Sammenlign dokumenter, et program der lader dig sammenligne to versioner af et dokument, selv om disse versioner er i forskellige formater. ABBYY FineReader's dokumentsammenligningsværktøj giver dig mulighed for at finde betydelige uoverensstemmelser i en tekst og for eksempel forhindre godkendelse eller offentliggørelse af den forkerte version af et dokument.
Der er flere måder at starte ABBYY Sammenlign dokumenter på:
Åbn Ny opgave vinduet, vælg fanen Sammenlign og klik på Åbn ABBYY Sammenlign dokumenter.
Klik på Start knappen i Windows og klik på ABBYY FineReader PDF 15 > ABBYY Sammenlign dokumenter (i Windows 10, skal du klikke på Start knappen, vælge Alle programme elementet på startmenuen og klikke på ABBYY FineReader PDF 15  > ABBYY Sammenlign dokumenter)
Klik Sammenlign Dokumenter på Redskaber menuen.
Højreklik på en fil i Windows Stifinder og klik på Sammenlign Dokumenter... genvejsmenuen.
Følg vejledningen nedenfor for at sammenligne to dokumenter.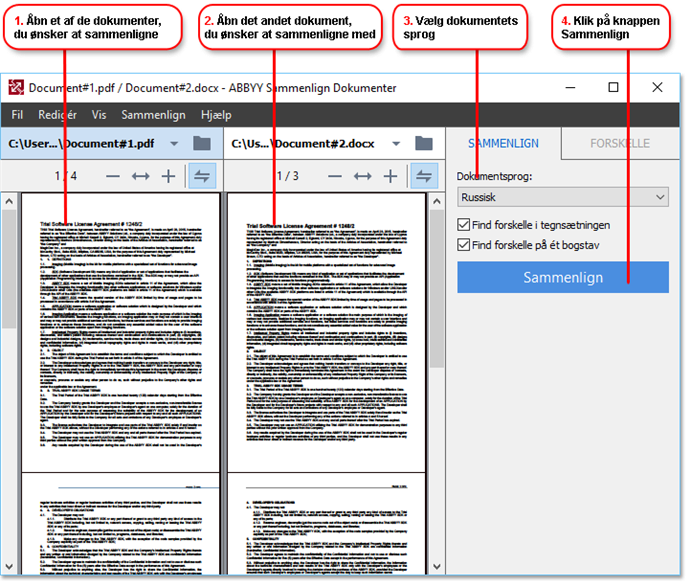 Åbn ABBYY Sammenlign dokumenter, åbn en af versionerne, som du ønsker at sammenligne i den venstre rude, og den anden i den højre rude.
I SAMMENLIGN vindue, skal du vælge sproget for dokumentet fra rullemenuen.
Gennemgå de forskelle, der registreres af ABBYY Sammenlign dokumenter.
Forskellene mellem de to versioner vil blive fremhævet i hver version og opført i højre rude, hvilket giver dig et klart billede af de ændringer, der er foretaget i dokumentet. Dette gør det nemt at se, hvilken tekst der blev tilføjet, fjernet eller redigeret i hver version. Begge sider rulles samtidigt og de identiske fragmenter vises altid side om side. Forskelle kan fjernes fra listen eller kopieres til Udklipsholder.

Forskelle, der blev fjernet fra listen, vil ikke blive gemt til forskelsrapporten.
Du kan gemme sammenligningsresultaterne:
Som Microsoft Word-filer, hvor forskellene vises med Registrér ændringer-funktionen.
Som et PDF-dokument med kommentarer.
Som en Microsoft Word-tabel, der indeholder forskellene.

For mere information om at sammenligne to versioner af samme dokument, se ABBYY Sammenlign dokumenter.
04.03.2022 7:13:01
Please leave your feedback about this article