Sammenligning af dokumenter
For at sammenligne to versioner af et dokument, skal du udføre disse trin:
Start ABBYY Sammenlign dokumenter.
Se også: Starter ABBYY Sammenlign dokumenter.
Åbne dokumenterne i ABBYY Sammenlign dokumenter. Dokumenterne skal være i et af de understøttede formater.
For at åbne et dokument skal du gøre et af følgende:
Træk og slip et dokument på et af de to visningsområder.
Klik et vilkårligt sted på et visningsområde og gå til filplaceringen.
Klik på knappen på værktøjslinjen i et visningsområde og find det ønskede dokument.
Klik på et af visningsområderne og klik derefter på Fil > Åbn dokument....
Du kan skifte mellem visningsområder ved at trykke på Ctrl+Tab eller Alt+1/Alt+2.
ABBYY Sammenlign dokumenter husker de seneste sammenlignede par af dokumenter.
For at åbne et af de seneste sammenlignede dokumenter, skal du vælge det på rullelisten øverst i et visningsområde.
For at åbne et nyligt sammenlignet dokumenterpar, skal du klikke på Fil > Seneste sammenligninger og vælge et dokumenterpar fra listen.
Du kan også åbne et par af nyligt sammenlignede dokumenter fra Ny opgave vinduet: klik på Sammenlign fanen, og vælg derefter et par af dokumenter under Seneste Sammenligninger.
Vælg sproget i dokumenterne fra listen på SAMMENLIGN fanen.
Klik på Sammenlign knappen på SAMMENLIGN fanen på ruden længst til højre eller klik på Sammenlign dokumenter kommandoen på Sammenlign menuen.
Et vindue vises, der viser en statuslinje, sammenligningstips og advarsler.



Efter dokumenterne er sammenlignet, vises en liste over forskelle i FORSKELLE fanen. Alle forskelle fremhæves i begge dokumenter.
Du kan Gemme Sammenligningsresultaterne:
Som en Microsoft Word-fil, hvor forskellene vises med Registrér ændringer-funktionen.
Bemærk: et gemt dokument er en genkendt version af det originale dokument, hvilket betyder, at der kan være synlige forskelle og genkendelsesfejl. Dermed bør et dokument af denne type udelukkende bruges til at vise forskellene.
Som et PDF-dokument med kommentarer.
Som en Microsoft Word-tabel, som indeholder forskellene.
For at gemme sammenligningsresultaterne skal du klikke på Gem... knappen i FORSKELLE fanen. Som standard gemmes forskellene i det senest valgte filformat. Hvis du vil gemme forskellene i et andet format, skal du vælge det ønskede format i rullelisten ved siden af Gem... knappen.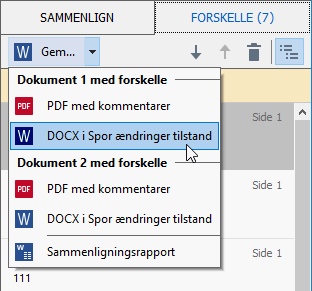 Se også: Visning af sammenligningsresultater, Gemme sammenligningsresultater.
04.03.2022 7:13:01
Please leave your feedback about this article