Vyhľadávanie kľúčových slov
Pri vyhľadávaní kľúčového slova postupujte takto:
Kliknite na kartu v ľavej table alebo kliknite na Zobraziť > Hľadať a otvorí sa tabla HĽADAŤ.
V textovom poli Hľadať čo zadajte slovo alebo slovné spojenie, ktoré chcete nájsť.
V dokumente sa zvýraznia slová alebo frázy zhodné s vaším dopytom.
Výsledky vyhľadávania sa usporiadajú do skupín (podľa zdroja: text, komentáre alebo záložky) a môžete zvýrazniť celé skupiny textu.
 
V prípade potreby kliknite na šípku vedľa ikony  a vyberte niektorú z týchto možností:
Presná zhoda nájde len slová, ktoré sú presnou zhodou slov zadaných do vyhľadávacieho poľa.
Napríklad hľadanie slova "correct" nenájde slová ako "incorrectly" ani "correction".
Rozlišovať malé a VEĽKÉ písmená nájde vo vašom dopyte iba slová, zhodujúce sa veľkosťou písmen.
Napr. hľadanie slova "Editor" nenájde slová ako "editor" ani "EDITOR".
Nájdené slová v texte môžete zvýrazniť, prečiarknuť a podčiarknuť. Ak to chcete urobiť, vyberte príslušné slová vo výsledkoch vyhľadávania a kliknite na príslušný nástroj (zvýraznenie, prečiarknutie alebo podčiarknutie).


V dokumente PDF sa vytvoria poznámky a označia sa aj všetky zmeny, ktoré bude potrebné vykonať v zdrojovom dokumente. Na samotný text v dokumente PDF to nemá vplyv.
Ak chcete zmeniť farbu použitú na označenie textu, kliknite na šípku vedľa príslušného nástroja a vyberte zo zobrazenej palety farieb požadovanú farbu.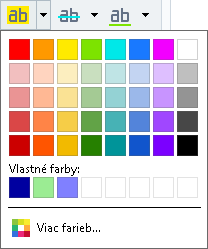 Na nasledujúcu/predchádzajúcu vyhľadanú zhodu prejdete tlačidlami

. Nasledujúci výsledok vyhľadávania vyberiete aj stlačením klávesu F3.
04.03.2022 7:13:26
Please leave your feedback about this article