PDF's weergeven en bewerken
Met ABBYY FineReader kunt u eenvoudig alle soorten PDF's weergeven, bewerken, er opmerkingen in plaatsen en erin zoeken, zelfs als u deze hebt verkregen door eenvoudigweg een papieren document te scannen en deze dus geen doorzoekbare of bewerkbare tekst bevatten.
PDF's weergeven en uw opmerkingen toevoegen
In het nieuwe taak- venster, klik op het  Openen tabblad en klik vervolgens op PDF-document openen. Het geselecteerde document wordt geopend in de PDF-editor voor weergave en opmerkingen.
Gebruik de Pagina's, Bladwijzers, Zoeken, Opmerkingen knoppen om in het document te navigeren.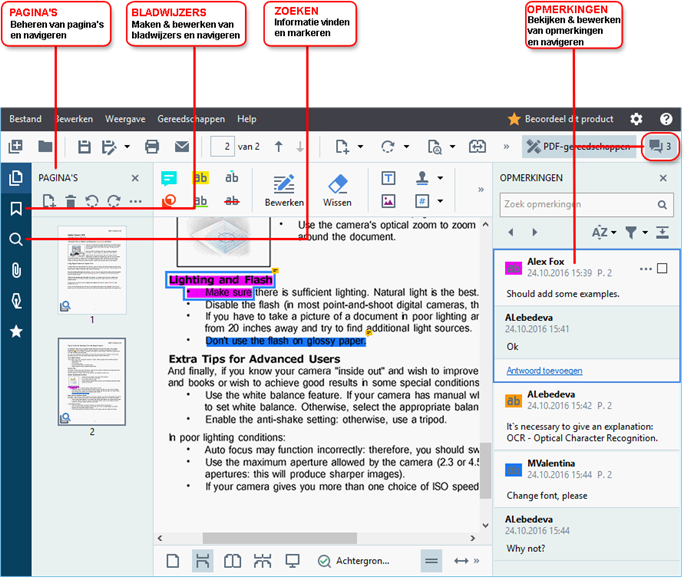 ABBYY FineReader biedt de volgende hulpmiddelen voor opmerkingen en notities:
Markeren, Onderstrepen, Doorhalen, en Tekst invoegen
Tekenen Vorm, Lijn of Pijl


Als u deze hulpmiddelen niet ziet, klikt u op de

knop.
PDF's bewerken
ABBYY FineReader biedt de volgende hulpmiddelen voor bewerken: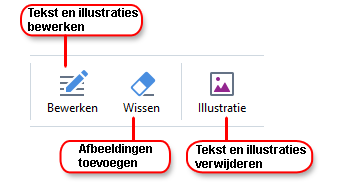 Zie ook: Tekst bewerken, Illustraties invoegen en bewerken.
ABBYY FineReader bevat de volgende functies:

Zie ook: Digitale handtekeningen, Vertrouwelijke informatie uit PDF-documenten verwijderen, Wachtwoorden en machtigingen.
Werken met interactieve formulieren
Met ABBYY FineReader PDF 15 kunt u interactieve PDF-formulieren maken, bewerken, invullen, opslaan en afdrukken. Zie ook: Werken met interactieve PDF-formulieren
Als u een PDF opent met een interactief formulier, worden de formuliervelden gemarkeerd. U wordt gevraagd om een waarde te selecteren in de vervolgkeuzelijst of informatie te typen.

Als u een formulier tegenkomt dat niet kan worden ingevuld door tekst in lege velden te typen, gebruikt u het Exporteren gereedschap om de benodigde informatie te typen in het formulier. Zie ook: Formulieren invullen.

Voor meer informatie over werken met PDF's, zie Werken met PDF-documenten.
04.03.2022 7:13:23
Please leave your feedback about this article