Een tekst herkennen die is geschreven in gotisch schrift
ABBYY FineReader kan u helpen historische documenten en boeken te herkennen die zijn geschreven in gotisch schrift in de Engelse, Duitse, Franse, Italiaanse, Spaanse en Letse taal. Met dergelijke documenten werken is in verschillende opzichten anders, zoals hieronder beschreven.

Herkenningstalen gotisch schrift
Het programma gebruikt de volgende 6 talen om tekst te herkennen die is geschreven in gotisch schrift:
Oud-Engels.
Oud-Frans.
Oud-Duits.
Oud-Italiaans.
Oud-Spaans.
Lets Gotisch.
Ondersteunde gotische lettertypen
Mogelijk moet u extra Windows-lettertypen installeren om de tekst in gotisch schrift weer te geven in de herkenningsresultaten.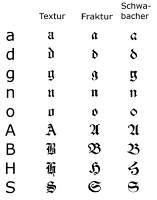 ABBYY FineReader ondersteunt de volgende gotische schriften:
Littera textualis — zwarte drukletters.
Fraktur — zwarte drukletters met hoekige lijnen.
Schwabacher — 'onderbroken' drukletters met afgeronde lijnen in bepaalde letters.
Als er geen gotische lettertypen zijn geïnstalleerd, worden de herkenningsresultaten weergegeven in Arial, Times of Courier.
Instructies voor het herkennen van tekst geschreven in gotisch schrift
Doe het volgende om een document te herkennen dat is geschreven met gotische drukletters:
Selecteer in het OCR-editor-venster Meer talen... uit de vervolgkeuzelijst Talen op de hoofdwerkbalk. Selecteer in het dialoogscherm Taleneditor dat wordt geopend, selecteer de optie Handmatig OCR-talen specificeren en specificeer de betreffende taal in de lijst. Klik vervolgens op OK.

Verschillende herkenningstalen tegelijk selecteren (bijv. Engels en Oud-Engels of Duits en Oud-Duits) kan negatieve gevolgen hebben voor de herkenningsresultaten. Vermijd dit door uitsluitendde taal te specificeren die wordt gebruikt om de gotische tekst te herkennen.
Meer informatie over hoe u de OCR-editor opstart vindt u bij De OCR-editor openen.
Scan of open de afbeeldingen.
Zie voor meer informatie Documenten verkrijgen.
Klik op de knop op de hoofdwerkbalk.
De herkenningsresultaten worden weergegeven in het venster Tekst.

De herkenningsresultaten worden weergegeven in een gotisch lettertype als het brondocument is geschreven met een ondersteund lettertype dat op uw computer is geïnstalleerd. Anders wordt Arial, Times of Courier gebruikt.

Indien nodig wijzigt u het lettertype van de resultaten:
Selecteer de betreffende tekst.
Klik op Eigenschappen in het contextmenu voor die tekst.
Selecteer in het deelvenster Teksteigenschappen het betreffende lettertype in de lijst.
Het documenttekst weergegeven in het opgegeven lettertype.
04.03.2022 7:13:23
Please leave your feedback about this article