English (English) - Change language
Keyword search
The PDF Editor allows you to find and highlight information in PDF files. Comments, metadata, and bookmarks will be searched along with the text in the document itself, and the results will be displayed in a separate panel. Search results will also be highlighted in the document, and you will be able to apply various effects to these results.
Click the tab in the pane on the left or click View > Search to open the Search pane.
Type the word or phrase you want to find.
Words or phrases that match your query will be highlighted in the document.
The search results will be arranged into groups and you will be able to highlight entire groups.

You can change search options by clicking on the arrow in the search box and selecting any of the following:
Exact Match will find only words that are an exact match of the words you typed in the search box.
Match Case will find only words that match the capitalization in your query.
You can highlight, cross out, and underline search hits in the text. To do this, in the Search pane, select the words you want to highlight, cross out or underline and then click the respective tool.

You can also redact search hits. See Removing confidential information from PDF documents.
To change the color used for text markup, click the arrow next to the respective tool and select the desired color on the color palette that appears.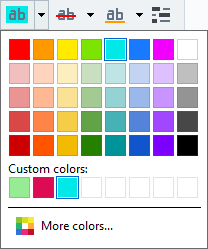 By default, the markup tools in the Search pane use the same colors as the markup tools on the PDF Tools toolbar.

To navigate to the next/previous search hit, use the

buttons. You can also select the next search result by pressing F3.
02.11.2018 16:19:18