German (Deutsch) - Change language
Dialogfeld Speichermethode für Stapeltypen auswählen
Dieses Dialogfeld ermöglicht die Auswahl eines Ordners, um XML-Dateien mit Beschreibungen der Stapeltypen zu speichern. Dieses Dialogfeld öffnet sich, während Stapeltypen gesendet und importiert werden (siehe Stapeltypen).
Eine XML-Datei mit einer Beschreibung des Stapeltyps kann lokal auf demselben Computer wie die Scanstation oder auf einem Remote-Server gespeichert werden. Wählen Sie entweder  Lokale Datei oder Remote.
Legen Sie bei einer lokalen Datei den Pfad im Feld Pfad fest. Klicken Sie auf Durchsuchen..., um den gewünschten Zielordner zu finden.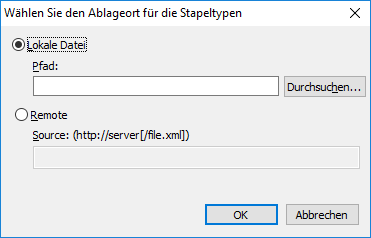 Legen Sie bei einer Remote-Datei den Pfad im Format http://server[/file.xml] fest.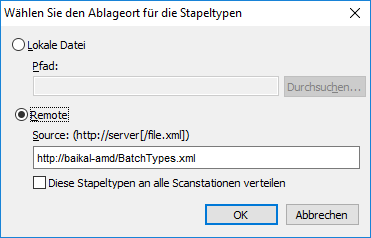 Hinweis. To work with a tenant's project, you will need to add the tenant's name to the server's address. The address needs to look like this: http://<server_name>#<tenant_name> (example: http://localhost#tenant).
Wenn Sie Stapeltypen senden, können Sie die Option Diese Stapeltypen an alle Scanstationen verteilen wählen. Ist diese Option aktiviert, versuchen alle mit dem Server verbundenen Scanstationen beim Start die Daten der Stapeltypen vom Server zu laden. Ist die Option deaktiviert, adressieren die Scanstationen den Server nicht, um von ihm Stapeltypen zu erhalten.
14.01.2021 14:17:18