German (Deutsch) - Change language
Registerkarte FlexiCapture-Server des Dialogfelds Optionen
Wenn Sie die Scanstation erstmals starten, müssen Sie den FlexiCapture Server angeben, der von der Station verwendet werden soll. Um die Parameter für die Verbindung zum FlexiCapture Server zu konfigurieren, klicken Sie auf Extras → Optionen... und anschließend auf die Registerkarte FlexiCapture-Server.
Die folgenden Optionen sind verfügbar: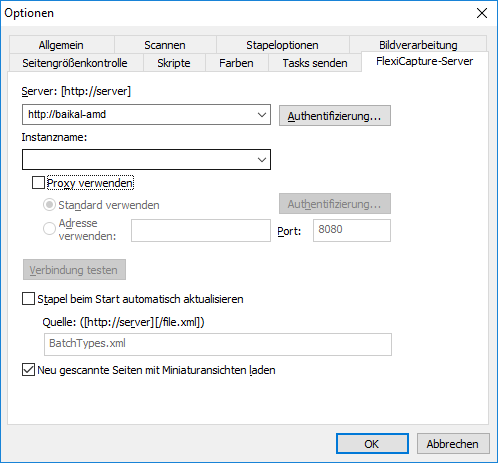 Option
Beschreibung
Server: [http://server]

Legen Sie den Server-Pfad im Format http://server fest.

Hinweis. To work with a tenant's project, you will need to add the tenant's name to the server's address. The address needs to look like this: http://<server_name>#<tenant_name> (example: http://localhost#tenant).

Authentifizierung...

Geben Sie im Dialogfeld Sicherheit die Anmeldeparameter für den Proxyserver oder den FlexiCapture Server ein.

Verwenden Sie die integrierte Sicherheit von Windows oder geben Sie einen Benutzernamen und ein Passwort ein.

Hinweis. Um für die Authentifizierung einen Benutzernamen und ein Passwort zu verwenden, müssen Sie auf dem Computer, auf dem der Anwendungsserver installiert ist, den Internet Information Services einrichten (die Basis-Authentifizierung für den Ordner FlexiCapture\Server zulassen) und dem Benutzer die entsprechende Zugriffsrechte für ABBYY FlexiCapture gewähren. (Bitte wenden Sie sich an Ihren Systemadministrator.)

Proxy verwenden

Ist diese Option aktiviert, wird der Datenverkehr an den von Ihnen angegebenen Proxyserver umgeleitet.

Standard verwenden
Wählen Sie diese Option, wenn Sie mit dem Proxyserver arbeiten möchten, der in den Systemeinstellungen unter Start → Systemsteuerung → Internetoptionen → Verbindungen → LAN-Einstellungen angegeben ist.
Adresse verwenden
Wählen Sie diese Option, wenn Sie den Proxyserver und den Port verwenden möchten, die auf dieser Registerkarte angegeben sind. Der Standardport ist 8080.

Verbindung testen
Ermöglicht die Überprüfung der Verbindung mit dem Server.
Stapel beim Start automatisch aktualisieren

Aktivieren Sie diese Option, wenn das Programm die Liste der verfügbaren Stapeltypen bei jedem Start der Scanstation automatisch aktualisieren soll.

Geben Sie im Feld Quelle: ([http://server][/file.xml]) die für die Aktualisierung der Liste der Stapeltypen zu verwendete Datei an (z. B. BatchTypes.xml).

Neu gescannte Seiten mit Miniaturansichten laden
Wählen Sie diese Option, um Seiten aus Tasks zum erneuten Scannen mit Miniaturansichten zu laden.
14.01.2021 14:17:18