Typen PDF-documenten
De functies van een PDF-document zijn afhankelijk van het programma waarmee het is gemaakt. Sommige PDF-documenten zijn doorzoekbaar en bevatten tekst die u kunt kopiëren, terwijl dit met andere documenten alleen mogelijk is wanneer u ze opent in speciale toepassingen, zoals ABBYY FineReader. Er zijn drie verschillende typen PDF-documenten.
PDF-documenten met alleen afbeeldingen
PDF-documenten met alleen afbeeldingen die zijn gemaakt van scans of papieren documenten. Ze bevatten alleen afbeeldingen van pagina's en hebben geen tekstlaag. PDF-documenten met alleen afbeeldingen zijn niet doorzoekbaar en de tekst kan niet worden gewijzigd of gemarkeerd in toepassingen voor het bekijken van PDF-documenten.
ABBYY FineReader PDF 15 maakt gebruik van een speciaal achtergrondproces voor OCR, dat documenten met alleen afbeeldingen voorziet van een tijdelijke tekstlaag. Zo wordt het mogelijk om tekst te zoeken en te kopiëren, en zelfs om pagina-afbeeldingen te bewerken.. Bovendien laat ABBYY FineReader PDF 15 u deze tekstlaag opslaan in het document, zodat de tekst in het document kan worden doorzocht en gekopieerd naar andere toepassingen. Zie ook: PDF-instellingen.
Doorzoekbare PDF-documenten
Doorzoekbare PDF-documenten bestaan uit afbeeldingen van pagina's met een tekstlaag eronder. Documenten van dit type worden meestal gemaakt door het scannen van papieren documenten, waarna de herkende tekst wordt opgeslagen in een tekstlaag.
Als u een PDF-document opent in ABBYY FineReader, wordt gecontroleerd of het document een bruikbare tekstlaag bevat. Zie ook: OCR-opties. Als er een tekstlaag aanwezig is, kan de tekst in het document worden doorzocht en gekopieerd in elke PDF-toepassing. In tegenstelling tot veel andere PDF-toepassingen, kunt u met ABBYY FineReader ook de tekst in doorzoekbare PDF-documenten bewerken.
In ABBYY FineReader kunt u op de volgende manieren doorzoekbare PDF-documenten maken:
Toevoegen van een tekstlaag aan een PDF-document met alleen afbeeldingen.
Converteren van PDF-documenten en afbeeldingsbestanden naar een doorzoekbare PDF-indeling. Om dit te doen, activeert u de Tekst onder het paginabeeld optie in de Instellingen voor doorzoekbare PDF optiegroep voor de PDF-bestandsindeling. Zie ook: PDF-instellingen.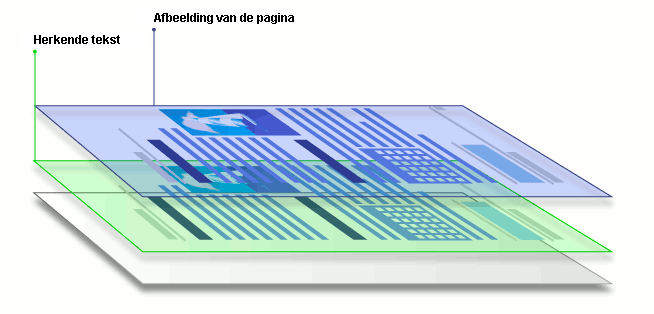 PDF-documenten die zijn gemaakt in andere toepassingen
Doorzoekbare PDF-documenten kunnen worden gemaakt van documenten in verschillende bewerkbare indelingen (zoals DOCX). Documenten van dit type bevatten een tekstlaag en illustraties, maar geen pagina-afbeeldingen. Deze documenten zijn doorzoekbaar en hun tekst en afbeeldingen kunnen worden gekopieerd en bewerkt, tenzij dergelijke handelingen zijn beveiligd met een wachtwoord dat niet bekend is bij de gebruiker.
PDF-documenten van dit type kunnen worden gemaakt door:
Het openen van een bewerkbaar document in het programma waarin het werd gemaakt en dit op te slaan als PDF-document.
Het converteren van een ander type PDF-document of een document in een andere indeling naar dit type PDF met ABBYY FineReader (bij de instellingen voor de PDF-bestandsindeling activeert u de Alleen tekst en illustraties optie in de Instellingen voor doorzoekbare PDF optiegroep). Zie ook: PDF-instellingen.
Het resulterende document is eenvoudiger te bewerken dan andere typen PDF-documenten, maar kan visueel afwijken van het origineel.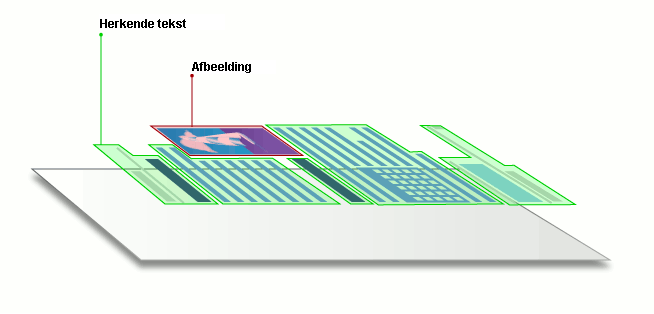 04.03.2022 7:13:23
Please leave your feedback about this article