Een gebied als een tabel kopiëren
Zo kopieert u een gebied van een PDF-document als een tabel:
Sleep met de muis om een rechthoekig kader te tekenen om het gebied dat u wilt kopiëren.
U kunt een tabel markeren of een deel daarvan, evenals ongecodeerde tekst, zelfs op de afbeeldingen.
Het gebied dat u markeert moet op één enkele pagina passen.
Klik op het pictogram op de taakbalk dat naast het gemarkeerde gebied wordt weergegeven.



U kunt ook rechtsklikken op het gemarkeerde gebied en klikken Kopiëren als tabel in het snelmenu, of gebruik de Ctrl+Alt+C sneltoets.




Voordat u een tabel kopieert, kunt u de structuur ervan aanpassen.
Plak de gekopieerde tabel in de gewenste toepassing.

Met PDF Editor kunt u de tabelstructuur aanpassen voordat u deze kopieert. U hebt de volgende mogelijkheden:
verticale/horizontale scheidingstekens toevoegen;
scheidingstekens verwijderen;
tabelcellen splitsen/samenvoegen.
Nadat de tekst van het gemarkeerde gebied is herkend, wordt een taakbalk met tabelbewerkingsgereedschappen

weergegeven naast het gebied.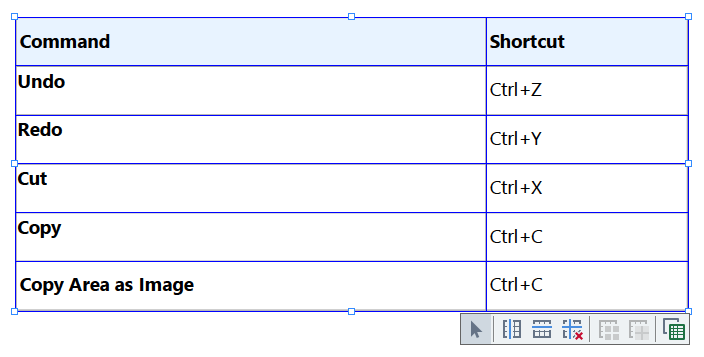 Gebruik deze gereedschappen om de tabelstructuur aan te passen en klik nogmaals op het

pictogram op de tabelbewerkingstaakbalk. De bewerkte inhoud wordt naar het klembord gekopieerd.

Er worden geen wijzigingen aangebracht aan de tabel in het oorspronkelijke bestand.

U kunt de tabel in het oorspronkelijke bestand bewerken in de OCR-editor.

Als de tabelgegevens die zijn gekopieerd aanzienlijk afwijken van de oorspronkelijke documentgegevens:
Als het document geen tekstlaag heeft, controleert u of de juiste OCR-talen zijn geselecteerd.
Als de pagina met de gegevens die u wilt kopiëren een tekstlaag van slechte kwaliteit bevat, vervangt u de tekstlaag door een nieuwe.
Probeer de gegevens nu nogmaals te kopiëren.
04.03.2022 7:13:23
Please leave your feedback about this article