Fotografering af dokumenter
Scanning er ikke den eneste måde at få billeder af dine dokumenter. Du kan genkende billeder af dokumenter taget med et kamera eller en mobiltelefon. Du skal bare tage et billede af teksten, gemme den på din harddisk og åbne det i ABBYY FineReader.
Når du tager billeder af dokumenter, bør en række faktorer tages i betragtning for at gøre billedet bedre egnet til genkendelse. Disse faktorer er beskrevet i detaljer i de følgende afsnit:
Krav til kamera
Dit kamera skal opfylde følgende krav for at lave dokumentbilleder, der kan genkendes med sikkerhed.
Anbefalede kameraegenskaber
Billedsensor: 5 millioner pixel for A4-sider. Mindre sensorer kan være tilstrækkeligt til at tage billeder af mindre dokumenter, som f.eks. visitkort.
Funktion til deaktivering af flash
Manuel blænderåbning, dvs. findes i Av- eller fuld manuel tilstand
Manuel fokus
Et anti-rystesystem eller egnethed til brug med stativ
Optisk zoom
Minimumskrav
2 millioner pixel for A4-sider.
Variabel fokuseret afstand.
Bemærk: Se dokumentationen, der fulgte med kameraet for flere oplysninger om kameraet.
Belysning
Belysning påvirker i høj grad kvaliteten af ​​det resulterende billede.
De bedste resultater kan opnås med skarpt og jævnt fordelt lys, helst dagslys. På en solrig dag kan du øge blænden for at få et skarpere billede.
Brug af blitz og ekstra lyskilder
Hvis du bruger kunstig belysning, så brug to lyskilder, der er placeret, så skygger eller blænding undgås.
Hvis der er nok lys, skal du deaktivere blitzen for at forhindre skarpt glanslys og skygger. Når du bruger blitz under dårlige lysforhold, skal du sørge for at tage billeder fra en afstand af ca. 50 cm.
Vigtigt! Blitzen må ikke anvendes til at tage billeder af dokumenter, som udskrives på blankt papir. Sammenlign et billede med blænde og et billede af god kvalitet
Hvis billedet er for mørkt
Indstil en lavere værdi på blænden.
Indstil en højere ISO-værdi.
Brug manuel fokus, da automatisk fokus ikke altid virker under dårlige lysforhold.
Sammenlign et billede, der er for mørkt med et billede af god kvalitet:
Sådan tages billeder
For at opnå billeder af dokumenter i god kvalitet skal du sørge for at placere kameraet korrekt og følge disse enkle anbefalinger.
Brug et stativ, når det er muligt.
Linsen skal placeres parallelt med siden. Afstanden mellem kameraet og dokumentet skal vælges således, at hele siden passer ind i rammen, når du zoomer ind. I de fleste tilfælde vil denne afstand være mellem 50 og 60 cm.
Glat papirdokumentet eller bogsiderne (især i tilfælde af tykke bøger). Tekstlinjer bør ikke have en skævhed på mere end 20 grader, da teksten ellers ikke kan konverteres korrekt.
Du kan få skarpere billeder ved at fokusere på midten af billedet.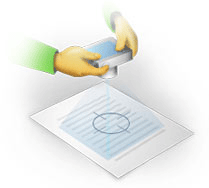 Aktivér anti-rystesystemet, da længere eksponering under dårlig lysforhold kan forårsage sløring.
Brug den automatiske udløserknapfunktion. Dette vil forhindre kameraet i at bevæge sig, når du trykker på udløserknappen. Brugen af ​​automatisk udløser anbefales også selvom du bruger et stativ.
Sådan kan et billede forbedres, hvis:
billedet er for mørkt, eller kontrasten er for lav.
Løsning: Prøv at forbedre belysningen. Hvis det ikke er muligt, kan du prøve at indstille en lavere blændeværdi.
billedet er ikke skarpt nok.
Løsning: Autofokus fungerer muligvis ikke korrekt ved dårlig belysning eller når du tager billeder med lille afstand. Prøv at bruge kraftigere belysning. Brug et stativ og selvudløser for at undgå at flytte kameraet, når billedet tages.
Hvis billedet kun er lidt sløret, kan du prøve værktøjet Korrigering af foto, som er tilgængeligt i Billedredigering. For yderligere oplysninger, se "Manuel redigering af billeder."
en del af billedet er ikke skarpt nok.
Løsning: Prøv at bruge en højere blændeværdi. Tag billeder fra en større afstand med maks. optisk zoom. Fokusér på et punkt mellem midten og kanten af billedet.
blitz forårsager blænding.
Løsning: Sluk for blitzen eller prøv at bruge andre lyskilder og øg afstanden mellem kameraet og dokumentet.
14.01.2020 17:26:18
Please leave your feedback about this article