PDF's weergeven en bewerken
Met ABBYY FineReader kunt u eenvoudig alle soorten PDF's weergeven, bewerken, er opmerkingen in plaatsen en erin zoeken, zelfs als u deze hebt verkregen door eenvoudigweg een papieren document te scannen en deze dus geen doorzoekbare of bewerkbare tekst bevatten.
PDF's weergeven en uw opmerkingen toevoegen
Ga op het startscherm naar het Openen tabblad en klik op de knop PDF-document: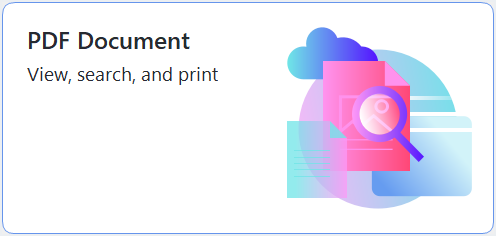 .
Het geselecteerde document wordt geopend in de PDF-editor voor weergave en opmerkingen.
Gebruik de knoppen Pagina's, Bladwijzers, Zoeken en Opmerkingen op het Document tabblad om door het document te navigeren.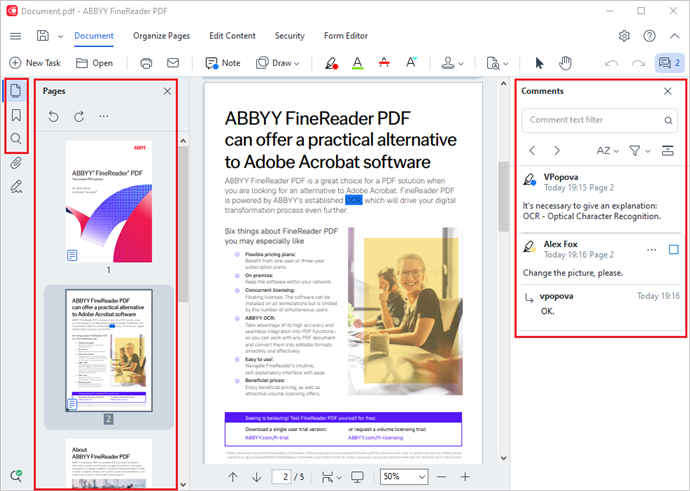 ABBYY FineReader biedt de volgende hulpmiddelen voor opmerkingen en notities:
Markeren, Onderstrepen, Doorhalen, en Tekst invoegen
Tekenen Vorm, Lijn of Pijl

PDF's bewerken

U kunt ABBYY FineReader gebruiken om tekst en afbeeldingen te bewerken, kop- en voetteksten te maken en uw eigen afbeeldingen toe te voegen. Ga naar het Inhoud bewerken tabblad om naar de bewerkingsmodus te gaan.
Zie ook: Tekst bewerken, Illustraties invoegen en bewerken.

U kunt ABBYY FineReader ook gebruiken om digitale en teksthandtekeningen toe te voegen, een document te versleutelen met een wachtwoord of een watermerk en vertrouwelijke informatie te bewerken. U kunt dit doen door naar het Beveiliging tabblad te gaan.
Zie ook: Digitale handtekeningen, Vertrouwelijke informatie uit PDF-documenten verwijderen, Wachtwoorden en machtigingen.
Werken met interactieve formulieren
Met ABBYY FineReader PDF kunt u interactieve PDF-formulieren maken, bewerken, invullen, opslaan en afdrukken. Zie ook: Werken met interactieve PDF-formulieren
Als u een PDF opent met een interactief formulier, worden de formuliervelden gemarkeerd. U wordt gevraagd om een waarde te selecteren in de vervolgkeuzelijst of informatie te typen.

Als u een formulier tegenkomt dat niet kan worden ingevuld door tekst in lege velden te typen, gebruikt u het Exporteren gereedschap om de benodigde informatie te typen in het formulier. Zie ook: Formulieren invullen.

Voor meer informatie over werken met PDF's, zie Werken met PDF-documenten.
5/17/2023 7:35:01 AM
Please leave your feedback about this article