Het Nieuwe taak-venster
Wanneer u ABBYY FineReader opstart, Nieuwe taak wordt een venster geopend. Hierin kunt u eenvoudig documenten openen, scannen, maken of vergelijken. Als het venster Nieuwe taak is gesloten of als ABBYY FineReader is gestart door met de rechtermuisknop op een bestand in Windows Explorer te klikken, kunt u terugkeren naar het hoofdscherm van het programma door te klikken  op de knop

op de werkbalk van het tabblad Document op het scherm PDF-editor of op de hoofdwerkbalk van het scherm OCR-Editor.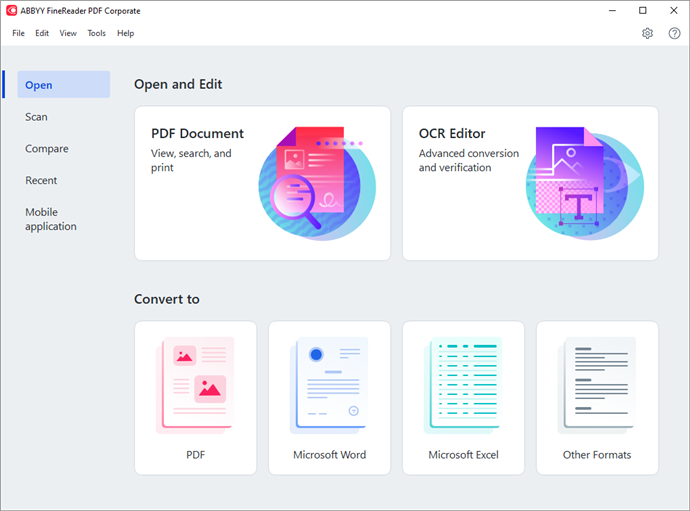 Om te beginnen met het verwerken van een document selecteert u een taak:
In het linker deelvenster:
Klik op Openen als u reeds documenten heeft die verwerkt moeten worden.
Klik op Scannen als u de papieren documenten eerst moet scannen.
Klik op Vergelijken als u twee versies van hetzelfde document wilt vergelijken.
Klik op Recent om het werk te hervatten aan een eerder opgeslagen PDF-document of OCR-project.
Klik op Mobiele app om documenten op uw smartphone te maken met FineReader PDF voor iOS of Android en erin verder te werken op uw computer.
Selecteer in het rechter deelvenster de gewenste taak.


Alle ABBYY FineReader-taken worden uitgevoerd met behulp van de instellingen in het Opties dialoogvenster. Om het dialoogvenster te openen klikt u op Gereedschappen > Opties....
Inhoud van het hoofdstuk
17.05.2023 7:35:01
Please leave your feedback about this article