Viewing and editing PDF documents
With ABBYY FineReader, you can easily view, edit, comment, and search inside any type of PDF documents, even those that were obtained by simply scanning a paper document and so do not contain any searchable or editable text.
Viewing PDF documents and adding your comments
On the home screen, navigate to the Open tab and click the PDF Document button: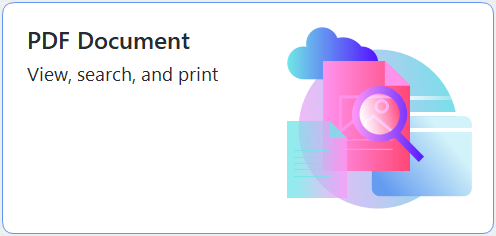 .
The selected document will be opened in the PDF Editor for viewing and commenting.
Use the Pages, Bookmarks, Search and Comments buttons in the Document tab to navigate around the document.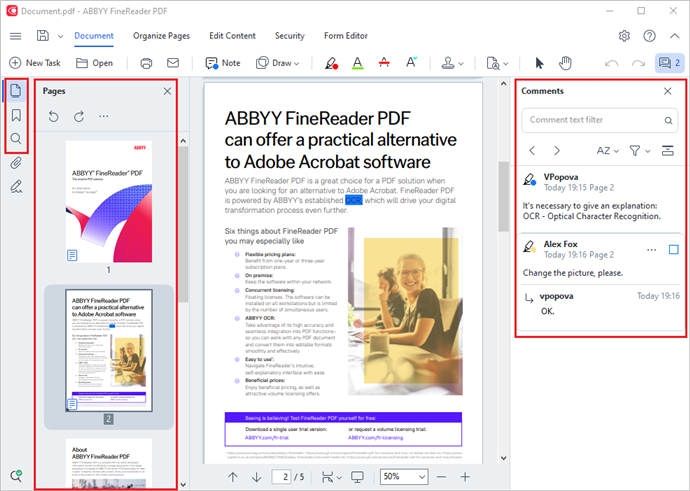 ABBYY FineReader offers the following commenting tools:

Editing PDF documents

You can use ABBYY FineReader to edit text and images, create headers and footers, as well as add your own images. To switch to the editing mode, navigate to the Edit Content tab.
See also: Editing text, Inserting and editing pictures.

You can also use ABBYY FineReader to add digital and text signatures, encrypt a document using either a password or a watermark, and redact confidential information. You can do this by navigating to the  Security tab.
See also: Digital signatures, Removing confidential information from PDF documents, Passwords and permissions.
Working with interactive forms
ABBYY FineReader PDF allows you to create, edit, fill out, save, and print interactive PDF forms. See also: Working with interactive PDF forms
When you open a PDF that contains an interactive form, the form fields are highlighted, inviting you to select a value from the drop-down list or type in some information.

If you encounter a form that cannot be filled out by simply typing text in the empty fields, use the Export tool to type the necessary information over the form. See also: Filling out forms.

For more information on working with PDF documents, see Working with PDF documents.
3/21/2023 2:43:03 PM
Please leave your feedback about this article