Samenwerken aan PDF-documenten
Met de PDF-editor kunt u opmerkingen van anderen bekijken en beantwoorden, zelfs als ze niet in ABBYY FineReader zijn gemaakt. U kunt eveneens de status van een opmerking wijzigen om iemand te laten weten dat u zijn suggestie heeft geaccepteerd of geweigerd.
Als u een lijst met alle opmerkingen in het document wilt weergeven, opent u het Opmerkingen deelvenster door op de
knop op de werkbalk in het tabblad te klikken.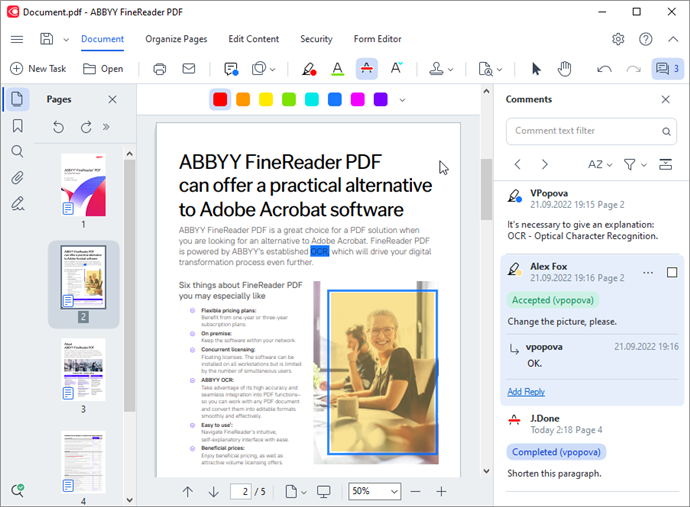 Zo opent u eveneens het Opmerkingen- deelvenster:
Klik met de rechtermuisknop op een aantekening, stempel of opmerking en klik op Deelvenster Opmerkingen weergeven in het snelmenu.
Selecteer Weergave in het hoofdmenu en klik op Deelvenster Opmerkingen weergeven.
Druk op F7.
Een opmerking toevoegen aan een aantekening
Een opmerking openen
Een opmerking beantwoorden
Een aantekening of de bijbehorende opmerking verwijderen of beantwoorden
Een opmerking markeren of de status wijzigen
Eigenschappen van aantekeningen en opmerkingen
Het deelvenster Opmerkingen
5/17/2023 7:35:01 AM
Please leave your feedback about this article