Working with Online Storage Services
ABBYY FineReader lets you open images and PDF files from and save recognized texts in online storage services such as Dropbox, SkyDrive or Google Drive. You can easily access your online storage locations from the opening and saving dialog boxes in ABBYY FineReader.
To open an image or PDF file from an online storage location:
In ABBYY FineReader, click Open or click Open PDF File or Image… on the File menu.
In the Open Image dialog box, click the Favorites or Recent places tab and select a desired storage service.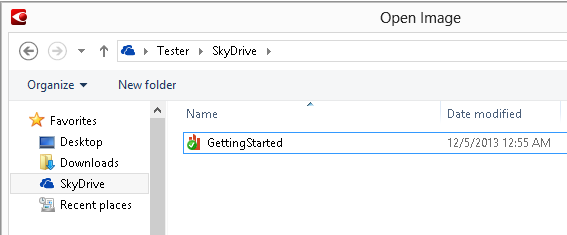 Select one or more image files.
In the case of a multi-page document, specify a page range.
Enable the Automatically process pages as they are added option if required.
Tip: Click Options… if you want to select processing and preprocessing options. For instance, you can tell the program to correct certain image defects, to analyze images, or to read images as they are added. For details, see "Scanning and Opening Options."
Note: If a FineReader document is currently open, the page images will be appended at the end of the document. Otherwise, a new FineReader document will be created.
In a similar manner, you can save recognized texts in online storage services.
14.01.2020 17:26:19
Please leave your feedback about this article