Documenten fotograferen
Scannen is niet de enige manier om afbeeldingen te maken van uw documenten. U kunt ook foto's van documenten herkennen die zijn gemaakt met een camera of mobiele telefoon. Maak gewoon een foto van de tekst, sla deze op uw harde schijf op en open hem in ABBYY FineReader.
Bij het maken van foto's van documenten moet u voor een optimale herkenning met een aantal factoren rekening houden. Deze factoren worden nader belicht in onderstaande paragrafen:
Cameravereisten
Uw camera moet voldoen aan de volgende eisen om documentafbeeldingen te verkrijgen die correct kunnen worden herkend.
Aanbevolen eigenschappen camera
Beeldsensor: 5 miljoen pixels voor A4-pagina's. Kleinere sensors kunnen voldoen voor het fotograferen van kleine documenten zoals visitekaartjes.
Mogelijkheid om de flitser uit te schakelen.
Handmatige controle over de diafragmaopening, ofwel halfautomatisch ofwel volledig handmatige modus.
Handmatige scherpstelling
Een stabilisatiesysteem of de mogelijkheid om een statief te gebruiken
Optische zoom
Minimale vereisten
2 miljoen pixels voor A4-pagina's.
Instelbare brandpuntsafstand.
Opmerking: Raadpleeg voor meer informatie over uw camera de documentatie die bij de camera is geleverd.
Verlichting
Verlichting verbetert de kwaliteit van de resulterende foto aanzienlijk.
De beste resultaten worden bereikt met helder en gelijkmatig verdeeld licht, liefst daglicht. Op een zonnige dag kunt u de sluitertijd verhogen om een scherper beeld te krijgen.
Flits en bijkomende lichtbronnen
Als u bij kunstlicht fotografeert, moet u twee lichtbronnen gebruiken die zodanig zijn geplaatst dat er geen schaduwen of glans ontstaan.
Als er genoeg licht is, schakel de flitser dan uit om weerkaatsing op de pagina en schaduwen te voorkomen. Bij gebruik van de flitser wegens ongunstige lichtomstandigheden moet u van een afstand van ongeveer 50 cm fotograferen.
Belangrijk! De flitser mag niet gebruikt worden om foto's te maken van documenten op glanzend papier. Vergelijk een afbeelding met weerkaatsing met een afbeelding van goede kwaliteit:
Als de afbeelding te donker is.
Stel een lagere waarde in voor de sluiter om het diafragma te openen.
Stel een hogere ISO-waarde in.
Gebruik handmatige scherpstelling, automatische scherpstelling kan mislukken bij te weinig verlichting.
Vergelijk een te donkere afbeelding met een afbeelding van goede kwaliteit:
Fotograferen
Om foto's te nemen van goede kwaliteit, moet u voor de correcte positie van de camera zorgen en deze eenvoudige richtlijnen volgen:
Gebruik een statief waar mogelijk.
De lens moet parallel ten opzichte van de pagina worden geplaatst. De afstand tussen de camera en het document moet zo gekozen zijn dat de volledige pagina binnen het kader past als u inzoomt. In de meeste gevallen ligt deze afstand tussen 50 en 60 cm.
Maak het papieren document of de boekpagina's plat (vooral in het geval van dikke boeken). De tekstregels mogen niet meer dan 20 graden cursief staan, anders wordt de tekst mogelijk niet correct geconverteerd.
Stel scherp op het middelpunt van de afbeelding om scherpere afbeeldingen te krijgen.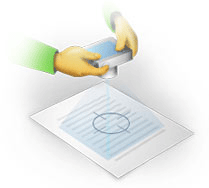 Schakel het stabilisatiesysteem in, aangezien langere belichting bij slechte verlichting voor een onscherp beeld kan zorgen.
Gebruik de functie voor automatische sluiter. Dit voorkomt dat de camera beweegt als u de sluiter activeert. Het gebruik van de automatische sluiter wordt aanbevolen, ook als u een statief gebruikt.
Een afbeelding verbeteren in het geval dat:
de afbeelding te donker is of als het contrast te laag is.
Oplossing: Probeer de verlichting te verbeteren. Probeer een lager diafragma als dit niet mogelijk is.
de foto niet scherp genoeg is.
Oplossing: Automatisch scherpstellen werkt vaak niet bij weinig licht of vanaf een te kleine afstand. Probeer een heldere verlichting Gebruik een statief en een zelfontspanner om te voorkomen dat de camera beweegt als de foto wordt gemaakt.
Als de afbeelding vaag is, probeer dan het hulpmiddel Fotocorrectie in de Afbeeldingseditor. Zie voor meer informatie het gedeelte "Afbeeldingen handmatig bewerken."
de foto niet scherp genoeg is.
Oplossing: Probeer een hogere waarde voor de sluitertijd in te stellen. Fotografeer vanaf een grotere afstand met maximale zoom. Stel scherp op een punt tussen het midden en de rand van de pagina.
de flitser weerkaatsing veroorzaakt.
Oplossing: Zet de flitser uit of probeer een andere lichtbron en vergroot de afstand tussen de camera en het document.
14.01.2020 17:26:20
Please leave your feedback about this article