Setting Up ABBYY FineReader Server
To cluster two or more machines, complete the following steps:
Check that you have all the necessary components in place and that they meet the hardware requirements listed above.
Install the Failover Clustering feature.
Validate the configuration to make sure that it is suitable for failover clustering.
Create a failover cluster.

Note. If your cluster has an even number of nodes, we strongly recommend using a quorum configuration with a witness resource (e.g. a Disk Witness, a Share Witness or a Cloud Witness); otherwise, the cluster will cease to function if half of its nodes fail. For detailed instructions, see the Configure the cluster quorum settings section on this page of the Microsoft website.
Detailed information about failover clustering is available on this page of the Microsoft website.
Basic Configuration of the Failover Cluster
In this example, the FineReader server is deployed on a FRS14C cluster (FRS14C.ad1.cluster). The cluster uses a network with the address 100.0.0.0/24 and the domain ad1.cluster.
The cluster consists of two nodes: FRSNode1 and FRSNode2.
Addressing in the Cluster
The FRSNode1 and FRSNode2 nodes have two network interfaces: one interface belongs to the 100.0.0.0/24 network, the other may belong to your local area network (for example 10.0.0.0/24). The data storage and the database have an interface only on the100.0.0.0/24 network and are available only to the cluster nodes FRSNode1 and FRSNode2.
Both networks are available to the cluster FRS4C.ad1.cluster. Cluster traffic should only be allowed in the designated network 100.0.0.0/24 for security and workload balancing reasons. In order to allow cluster traffic in the 100.0.0.0/24 network, open the Failover Cluster Manager select Cluster Network in the Networks group, and select Allow clients to connect through this network in the settings.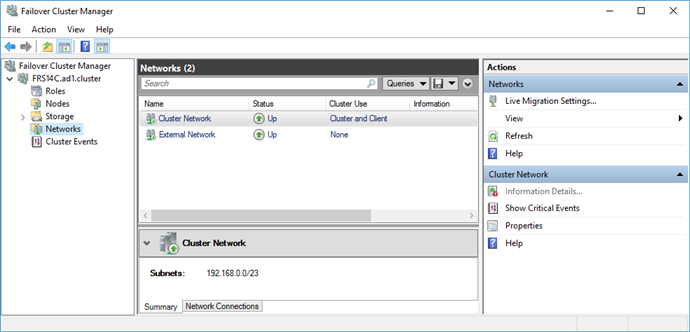 Interfaces and networks:
| | | |
| --- | --- | --- |
| Interface | Network | Description |
| Storage | 100.0.0.1/24 | Centralized storage |
| FRSNode1 | 100.0.0.11/24 | Cluster node |
| FRSNode2 | 100.0.0.12/24 | Cluster node |
| FRS14C | 100.0.0.34/24 | Cluster address |
Domain users
To set up domain user accounts:
Create two domain users, for example ad1\FRSNode1adm and ad1\FRSNode2adm.
Give administrator rights to ad1\FRSNode1adm on node FRSNode1 and to ad1\FRSNode2adm on FRSNode2.

Important! These user accounts will only be used for working with ABBYY FineReader Server in a failover cluster to ensure correct usage of shared network resources.

Important! Clustering requires the use of domain accounts. It is not possible to work under a local user account.
29.08.2023 11:55:29
Please leave your feedback about this article