PDFPicture Object (IPDFPicture Interface)
This object represents a picture added to a PDF file. It provides access to the original image that can be modified using methods of the ImageDocument object (see also Image Preprocessing). It also exposes methods that allow you to manage the picture position or even remove it from the page.
Properties
Methods
Related objects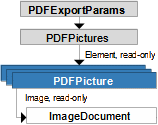 Output parameter
This object is the output parameter of the Item, AddNew methods of the PDFPictures object.
See also
24.03.2023 8:51:52