Chinese Simplified (简体中文)
Category Object (ICategory Interface)
This object is a set of classification objects belonging to the same category. Several Category objects can represent the complete set of data for training the classifier.
Properties
Related objects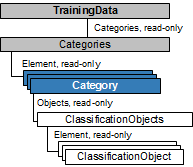 Output parameter
This object is the output parameter of the AddNew, Find, Item methods of the Categories object.
Samples
This object is used in the Classification demo tool.
See also
24.03.2023 8:51:52