Dutch (Nederlands) - Change language
License Server en License Manager installeren
Plaats de installatieschijf in het dvd-station en wacht tot het installatieprogramma automatisch start, of voer het bestand Setup.exe uit op de installatieschijf of andere installatiemedia.
Selecteer Masseinstallering > Installer og aktiver ved hjelp av lisensstyringsprogrammet > Trinn 1. Installer lisensserveren med lisensstyringsprogrammet en selecteer de versie van het installatiepunt.
Volg de instructies van het installatieprogramma.
Tijdens de installatie kunt u het volgende doen:
ABBYY FineReader License Server en ABBYY FineReader License Manager installeren.
License Server en License Manager worden op dezelfde computer geïnstalleerd. U kunt de map opgeven waarin License Manager geïnstalleerd moet worden.
Alleen ABBYY FineReader 14 License Manager installeren. U moet opgeven in welke map License Manager geïnstalleerd moet worden, en u moet de naam opgeven van de computer die License Server host.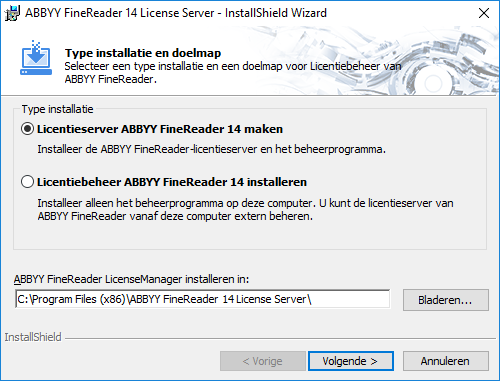 Opmerking:
Als meerdere gebruikers de ABBYY FineReader 14 licenties beheren, moet de toepassing License Manager  op hun computers geïnstalleerd zijn.
Elke gebruiker moet lid zijn van een van de twee lokale groepen op de server:
ABBYY Licensing Administrators
BUILTIN\Administrators
U kunt gebruikersautorisatie uitschakelen in het bestand
%programfiles%\Common Files\ABBYY\FineReader\14.00\Licensing\ NetworkLicenseServer.ini
(of %commonprogramfiles(х86)%\ ABBYY\FineReader\14.00\Licensing\ NetworkLicenseServer.ini als u gebruikmaakt van een 64-bits systeem)
Dit bestand bevindt zich op de computer waarop License Server is geïnstalleerd. Voeg de volgende parameter toe aan dit bestand:
[Licensing]
EnableManagerAuthorization = false
Belangrijk! De wijzigingen treden pas in werking na een herstart van ABBYY FineReader 14 Licensing Service.
02.11.2018 16:19:44