English (English) - Change language
Creating an administrative installation point
Place the setup disk into the DVD drive and wait for it to start automatically or run the Setup.exe /a file from the installation media in the command line using the /a option.
Note: see Additional command-line options for silent installation with additional options for command line installation.
Click Mass Installation > Install and activate using the License Manager > Install the License Server and the License Manager and select the version of the installation point.
Follow the instructions of the setup program.
When the setup program prompts you, specify the following:
The name of the computer where the License Server is to be installed
The path to the administrative installation folder
Important! Avoid moving the administrative installation folder after ABBYY FineReader is installed on the workstations.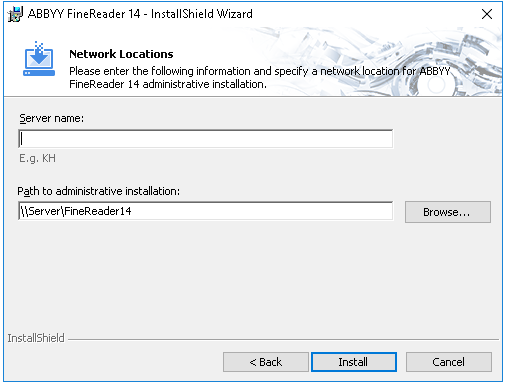 11/2/2018 4:19:15 PM