Optionen für FlexiCapture-Export
In diesem Dialogfeld können Sie Optionen für den Export von Stapeln nachABBYY FlexiCapture auswählen. Wählen Sie Datei → Exportoptionen... und klicken Sie auf die Registerkarte FlexiCapture. Sie können dieses Dialogfeld auch öffnen, indem Sie auf den Pfeil neben der Schaltfläche Senden an auf der Symbolleiste im Hauptfenster klicken und ein Exportprofil des Typs  Senden an FlexiCapture... auswählen.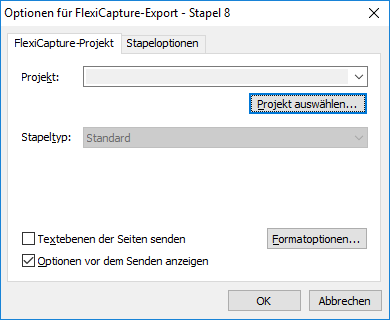 In diesem Dialogfeld können Sie ein ABBYY FlexiCapture-Projekt und einen Stapel innerhalb dieses Projekt auswählen, zu dem die Daten exportiert werden.
Wählen Sie das Projekt aus der Liste Projekt aus. Klicken Sie auf Projekt auswählen..., um ein Projekt zu suchen. Für ein Remote-Projekt gehen Sie im Dialogfeld FlexiCapture Projekt auswählen  (wird nach Anklicken von Projekt auswählen... geöffnet) wie folgt vor:


Dialog anzeigen
Legen Sie im Feld Server den Server-Pfad im Format http://server fest.

Legen Sie im Dialogfeld Authentifizierung die Verbindungseinstellungen fest. Sie können die Windows-Authentifizierung verwenden oder einen speziellen Benutzernamen und ein Kennwort eingeben.
Hinweis. Damit eine Authentifizierung mit Namen und Kennwort möglich ist, müssen Sie den Internet Information Services auf dem Computer entsprechend konfigurieren, auf dem der Anwendungsserver installiert ist, d. h. die Standardauthentifizierung für den Ordner FlexiCapture\Server erlauben. Weitere Informationen erhalten Sie von Ihrem Systemadministrator.
If needed, specify the Tenant name in the respective field.
Klicken Sie auf Projekte aktualisieren.Alle verfügbaren ABBYY FlexiCapture-Projekte werden in der Liste Projekte angezeigt. Wählen Sie das gewünschte Projekt aus der Liste und klicken Sie auf OK.
Bestimmen Sie den Projekttyp
By default, the Scanning Station will send only document images. Enable the Textebenen der Seiten senden option if you want to send document images together with text for documents that have a text layer.
Deaktivieren Sie die Option Optionen vor dem Senden anzeigen, wenn Sie dieselben Optionen beim nächsten Datenexport nach ABBYY FlexiCapture verwenden möchten. In diesem Fall wird dieses Dialogfeld beim Start des nächsten Exportvorgangs nicht angezeigt.
Wählen Sie die Schaltfläche Formatoptionen..., um Bildformatoptionen anzugeben. Im Dialogfeld Bildformatoptionen können Sie die folgenden Einstellungen angeben:
Format: TIFF, BMP, JPG, JPEG2000, DCX packbits, PCX packbits, PNG, PDF, PDF/A. For details, see Supported Image Formats
Farbmodus: Color, Grayscale, Raster (S/W)
Qualität: Beste, Hoch, Normal, Gering, Individuell
Indem Sie die Bildformatoptionen ändern, können Sie bei Erfordernis die Netzwerkbelastung.
Bestimmen Sie Namen und Beschreibung des Stapels auf der Registerkarte Stapeloptionen.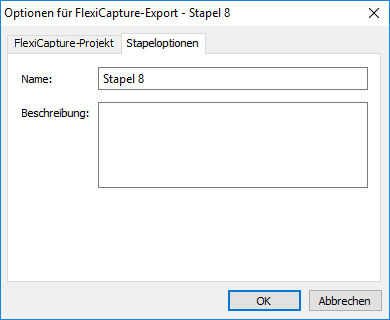 11/29/2022 5:26:41 PM
Please leave your feedback about this article