Visning og redigering af PDF-filer
Med ABBYY FineReader kan du nemt se, redigere, kommentere og søge i enhver form for PDF-filer, selv dem, der kom fra en simpel scanning af et papirdokument og derfor ikke indeholder nogen søgbar eller redigerbar tekst.
Visning af PDF-filer og tilføjelse af dine kommentarer
Gå til Åbn fanen på startskærmen, og klik på knappen PDF-dokument: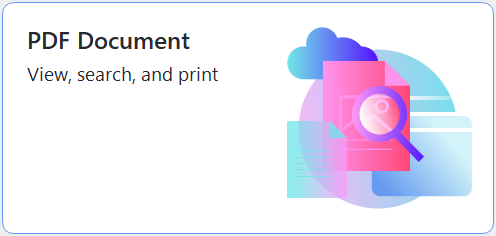 .
Det valgte dokument vil blive åbnet i PDF Editoren til visning og kommentering.
Brug knapperne Sider, Bogmærker, Søg og Kommentarer på fanen Dokument til at navigere rundt i dokumentet.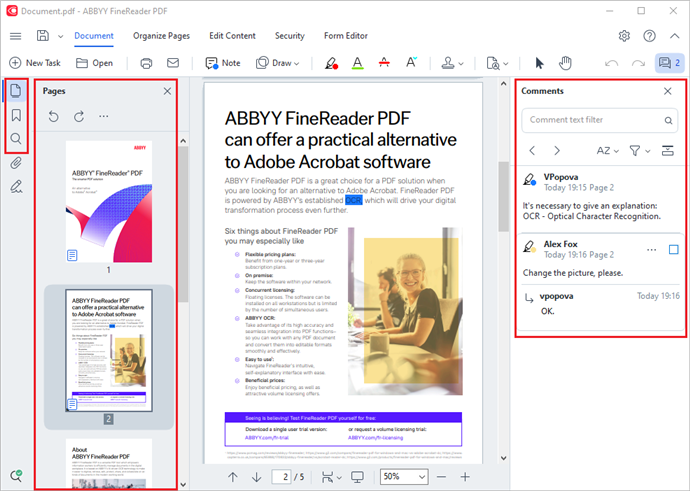 ABBYY FineReader tilbyder følgende kommenteringsværktøjer:
Fremhæv, understregning, gennemstregning og indsæt tekst
Tegn Form, linje eller pil

Redigering af PDF-filer

Du kan bruge ABBYY FineReader til at redigere tekst og billeder, oprette sidehoveder og sidefødder samt tilføje dine egne billeder. For at skifte til redigeringstilstand skal du navigere til Rediger indhold fanen.
Se også: Redigere tekst, Indsætte og redigere billeder.

Du kan også bruge ABBYY FineReader til at tilføje digitale og tekst signaturer, kryptere et dokument ved hjælp af enten en adgangskode eller et vandmærke, og redigere fortrolige oplysninger. Du kan gøre dette ved at navigere til Sikkerhed fanen.
Se også: Digitale signaturer, Fjernelse af fortrolige oplysninger fra PDF-dokumenter, Adgangskoder og tilladelser.
Working with interactive forms
ABBYY FineReader PDF allows you to create, edit, fill out, save, and print interactive PDF forms. Se også: Working with interactive PDF forms
Når du åbner en PDF-fil, der indeholder en interaktiv form, er formularfelterne fremhævet og inviterer dig til at vælge en værdi fra en rulleliste eller indtaste nogle oplysninger.

Hvis du støder på en form, der ikke kan udfyldes ved blot at skrive tekst i de tomme felter, skal du bruge Eksporter værktøjet til at indtaste den nødvendige information over formularen. Se også: Udfyldning af formularer.

For mere information om at arbejde med PDF-filer, se Arbejde med PDF-dokumenter.
17.05.2023 7:34:33
Please leave your feedback about this article