Boîte de dialogue Options d'exportation vers FineReader Server
Dans cette boîte de dialogue, vous pouvez sélectionner les options servant à exporter des lots vers  ABBYY FineReader Server. Select File → Options d'exportation... and click the FineReader Server tab. Vous pouvez également ouvrir cette boîte de dialogue lorsque vous sélectionnez un profil d'exportation Envoi vers FineReader Server... ou en cliquant sur la flèche située à côté du bouton Envoyer vers dans la barre d'outils de la fenêtre principale.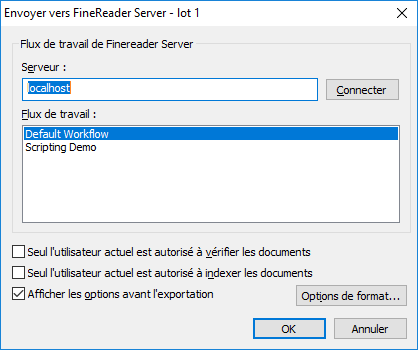 Dans le champ Serveur, spécifiez le nom ou l'adresse IP de l'ordinateur sur lequel est installé le Gestionnaire de serveurs d'ABBYY Recognition Server et cliquez sur  Connecter. les workflows disponibles pour Recognition Server apparaîtront dans la fenêtre Workflows. Sélectionnez le workflow souhaité et cliquez sur OK.
Si vous souhaitez utiliser ces options la prochaine fois que vous exporterez des lots vers ABBYY Recognition Server, désactivez l'option Afficher les options avant l'exportation. Désormais, cette boîte de dialogue ne s'affichera plus au démarrage du processus d'exportation.
05.05.2023 14:34:39
Please leave your feedback about this article