Zobrazenie a úprava súborov PDF
S programom ABBYY FineReader môžete jednoducho zobraziť, upravovať, komentovať a vyhľadávať v ľubovoľnom type súborov PDF, dokonca aj tých, ktoré ste získali jednoduchým skenovaním papierového dokumentu, a teda neobsahujú žiadny vyhľadávateľný alebo upraviteľný text.
Zobrazenie súborov PDF a pridávanie komentárov
Na domovskej obrazovke prejdite na kartu Otvoriť a kliknite na tlačidlo Dokument PDF: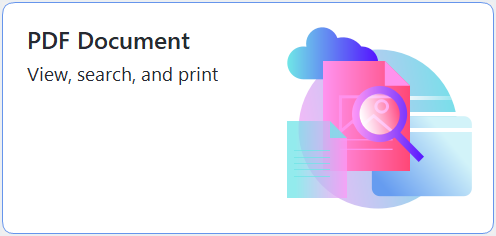 .
V programe PDF Editor sa otvorí vybraný dokument na prezeranie a komentovanie.
Ak chcete prechádzať a navigovať v dokumente, použite tlačidlá Stránky, Záložky, Vyhľadávanie a Komentáre na karte Dokument.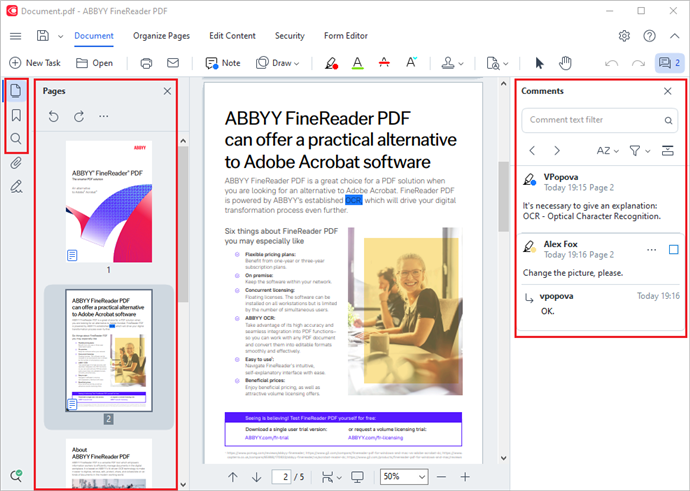 Program ABBYY FineReader ponúka tieto nástroje na komentovanie:

Úprava súborov PDF

Aplikáciu ABBYY FineReader môžete použiť na úpravu textu a obrázkov, vytváranie záhlavia a päty, ako aj na pridávanie vlastných obrázkov. Ak chcete prepnúť do režimu úprav, prejdite na kartu Upraviť obsah.
Pozrite tiež: Úprava textu, Vkladanie a úprava obrázkov.

Aplikáciu ABBYY FineReader môžete použiť aj na pridávanie digitálnych a textových podpisov, šifrovanie dokumentu pomocou hesla alebo vodoznaku a na úpravu dôverných informácií. Môžete to urobiť tak, že prejdete na kartu Zabezpečenie.
Pozrite tiež: Digitálne podpisy, Odstrániť dôverné informácie z dokumentov PDF, Heslá a povolenia.
Working with interactive forms
ABBYY FineReader PDF allows you to create, edit, fill out, save, and print interactive PDF forms. Pozrite tiež: Working with interactive PDF forms
Keď otvoríte súbor PDF, ktorý obsahuje interaktívny formulár, zvýraznia sa polia formulára a môžete vybrať hodnotu z rozbaľovacieho zoznamu alebo napísať nejaké informácie.

Ak sa vyskytne formulár, ktorý nemôžete vyplniť jednoduchým napísaním textu do prázdnych polí, použite nástroj Exportovať na napísanie potrebných informácií vo formulári. Pozrite tiež: Vyplniť formuláre.

Ďalšie informácie o práci so súbormi PDF nájdete v časti Práca s dokumentmi PDF.
17.05.2023 7:35:07
Please leave your feedback about this article