Send to FineReader Server Options Dialog Box
In this dialog box, you can specify the options for exporting batches to ABBYY FineReader Server. Select File → Sending Options... and click the FineReader Server tab. You can also open this dialog box when selecting a Send to FineReader Server... export profile by clicking the arrow next to the Send To button on the main window toolbars.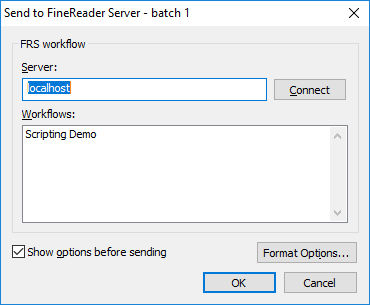 In the Server field, specify the name or the IP address of the computer on which the Server Manager of ABBYY FineReader Server is installed and click Connect. All the workflows available to the FineReader Server will appear in the Workflows window. Select the desired workflow and click OK.
If you wish to use these options next time you export batches to ABBYY FineReader Server, clear Show options before sending. Now this dialog box will not be displayed next time the export process starts.
11/29/2022 5:26:42 PM
Please leave your feedback about this article