When you scan a book, facing pages can appear on the same image.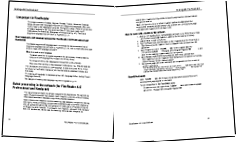 To improve recognition quality, you may wish to split such images in two, so that each image contains only one page.
Select the image that you want to split in two.
Open the EDIT IMAGE and click SPLIT.
Depending on the orientation of the facing pages, select either the vertical or horizontal separator and place it between the pages.
Tip: To delete all separators, click .
Click the Split button.
To quit the image editing mode, click Close Image Tools.
Each of the selected images will be split into two separate images, each containing only one page.
Tip: If there are lots of images with facing pages in your document, you may wish to split them automatically. Holding down the Ctrl or Shift key, select the images you want to split and then click the Split All Automatically button. If you need to split all the images, select the first one and then click the Split All Automatically button. ABBYY FineReader 12 Sprint will automatically add vertical or horizontal separators where required and split the selected images with facing pages.
Important! If you have already saved the document before splitting facing pages, you will need to save the document again to apply the changes you made with the Split tool. To save the document, close the image tools and click one of the buttons on the EXPORT SETTINGS pane.
02.11.2018 17:37:16
Please leave your feedback about this article