Sending Tasks Tab of Options Dialog Box
On this tab, you can specify the options for processing export tasks. Select Tools → Options... and click the Sending Tasks tab.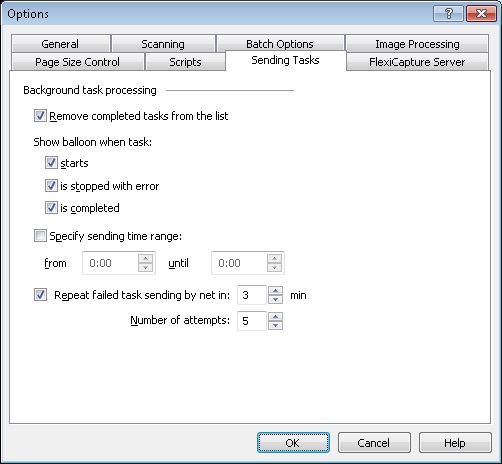 Option
Description
Remove completed tasks from list
Select this option to delete completed tasks from the list in the export tasks dialog box. This dialog box contains information about the exported batches, task status, its start time, and progress. You can open this dialog box during export or after export is finished by clicking the shortcut in the notification area of the Windows taskbar.
Show balloon when the task...

Select this option to enable shortcut messages when:

starts
Task processing starts.
is stopped with error
An error occurs during task processing.
is completed
Task processing is completed.

Specify sending time range
Here you can specify a daily time period when batches should be sent to their destination. After the time range is specified, select the batch to be sent and click the Send to button on the toolbar or select the corresponding item in the menu. Batches which are waiting for sending are marked with .
Attempt to send failed task every...

Select this options to enable repeat sending of a failed task by net:

n min
An attempt to send the task again will be made in n minutes.
Number of attempts
Attempts to send the task will be made n times.
29.11.2022 17:26:42
Please leave your feedback about this article